As the Worlds 2023 finals approach, T1's top laner Zeus shares his thoughts on facing Weibo Gaming and the legendary top laner, TheShy. His journey to the finals is a testament to his skill and determination.
The Anticipation of a Lifetime Matchup
Zeus, having observed TheShy's 2018 victory, is eager to prove himself. Despite TheShy's earlier triumph, Zeus is confident that his time to shine is now.
Facing TheShy: A Dream Come True
Zeus recognizes TheShy's formidable skills but welcomes the challenge with excitement. This high-stakes matchup is not just a game but a battle to determine the world's best top laner.
Overcoming Challenges: T1's Journey to the Finals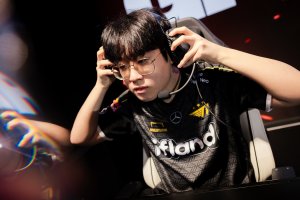 Zeus reflects on the tough road to the finals, emphasizing the importance of perseverance. T1's resilience and his personal growth have been crucial in reaching this pinnacle event.
Strategy and Mindset: Preparing for the Finals
With a strategic mindset, Zeus emphasizes the significance of maintaining form and adapting strategies. He hints at versatile gameplay and multiple tactics up his sleeve for the showdown against Weibo Gaming.
Predictions and Expectations
Confidently, Zeus predicts a 3-1 victory against WBG. His preparation, both mental and strategic, is geared towards lifting the Summoner's Cup this year.
A Personal Message to TheShy
In a lighthearted yet determined tone, Zeus acknowledges TheShy's reputation but remains unfazed. He humorously refers to himself as a "god of thunder," setting the stage for an epic confrontation.
Final Remarks
Zeus's anticipation for the finals is palpable. He respects his opponents but is ready to make his mark in this historic battle against Weibo Gaming and TheShy. This final is more than a game; it's a culmination of Zeus's dedication and skill, ready to be showcased on the world's biggest stage. League of Legends esports