The past few weeks have been filled with news, rumors, and leaks. And among them, one has resonated the loudest: the potential addition of World of Warcraft to the Xbox Game Pass. Are we on the brink of a revolution in the way we play the most iconic MMO of all time?
The Context: The Purchase of Activision Blizzard
Microsoft is no stranger to significant business moves. However, the recent acquisition of Activision Blizzard has taken things to a whole new level. With this, the Xbox brand will have access to an arsenal of titles that could revolutionize their Game Pass platform. Although there's still uncertainty about when these games will be available, Microsoft has made it clear they're actively working to include these titles in their service.
Leaks and Future Plans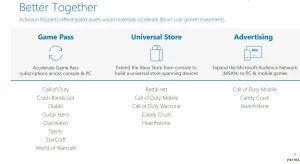 Leaks can be any company's worst enemy, but when it comes to Microsoft and Xbox, curiosity is too high. The leaked documents reveal ambitious plans, from launching a portable console to anticipation of the next console generation. However, what truly grabs our attention is the potential acquisition of Activision Blizzard, a powerhouse holding titles like Call of Duty and, of course, World of Warcraft.
WoW and Xbox Game Pass: A Winning Combination
World of Warcraft needs no introduction. With its legacy and legion of fans, it's no surprise Microsoft wants to leverage its potential. The idea of playing WoW without the need for a monthly subscription, if one already has an Xbox Game Pass, could be a game-changer for both companies and, of course, for the players.
What Does This Mean for Players?
One of the most significant barriers to entering the world of WoW has always been its subscription model. With this potential integration, players might have access to the world of Azeroth without the pressure of monthly payments, as long as they are Xbox Game Pass members.
Game Pass: A New Era
While the leaks offer a tantalizing view of the future, it's essential to take this information with caution until there are official confirmations. However, if these rumors turn out to be true, we might be on the brink of a new era for World of Warcraft and Xbox.