Blizzard's latest season of WoW Dragonflight is already stirring excitement with the announcement of its upcoming patch, 10.2.5: Seeds of Renewal. While not as expansive as Patch 10.2: Guardians of the Dream, it promises a unique blend of nostalgia and innovation for WoW enthusiasts.
Dragonriding Across Azeroth
Expansion of Dragonriding: One of the most anticipated features in Patch 10.2.5 is the expansion of Dragonriding to Azeroth's existing continents.
Previously Limited to Dragon Isles: Before, Dragonriding was exclusive to the Dragon Isles, but now, players can enjoy their dragon mounts in zones across the world, adding a new layer of exploration and enjoyment.
More #Dragonflight is still to come!

Seeds of Renewal arrives this week on the PTR. pic.twitter.com/blaLdSNBqn

— World of Warcraft (@Warcraft) November 16, 2023
Rediscovering Gilneas
Revival of an Abandoned Zone: Gilneas, largely ignored in WoW's storyline for over a decade, will be revisited.
Genn Greymane's Quest: Players will join the former Gilnean king, Genn Greymane, on a mission to reclaim the Worgen homeland for the Alliance, offering a fresh perspective on this classic zone.
Continuing the Dragon Isles Experience
Dragonflight Story Epilogues: For players attached to the Dragon Isles, the story will conclude with captivating epilogues, ensuring a satisfying narrative closure.
Azerothian Archives: This new feature will allow players to delve into the lore of the Dragon Isles, meeting unique characters, hearing ancient stories, and exploring iconic visuals from a bygone era.
Release Expectations and Consistency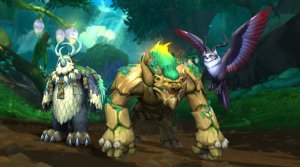 Anticipated Release in Early 2024: While no official date is announced, the pattern of previous releases suggests an early 2024 launch.
Regular Content Updates: Blizzard's consistent eight-week cycle for new content in Dragonflight indicates a timely release for Patch 10.2.5.
A New Direction in WoW Dragonflight
Patch 10.2.5: Seeds of Renewal is shaping up to be a bridge between the old and new in World of Warcraft, offering players a chance to revisit classic zones with fresh eyes while concluding the Dragon Isles' story. This patch is a testament to Blizzard's commitment to evolving WoW while honoring its rich history.