As the chapters of World of Warcraft: Dragonflight begin to wane, the anticipation for the 2024 expansion, "The War Within," steadily builds. While no Patch 10.3 will grace the expansion, a promise of regular content updates has been assured by Blizzard's team.
Consistent Updates to Keep the Adventure Alive
In a revealing interview with WoW streamer Mr. GM, Production Director Michael Bybee and Senior Game Designer Sean McCann disclosed an aggressive update schedule for Dragonflight, aiming to deliver fresh content bi-monthly.
"The Eight-Week Pledge: Continuous Content"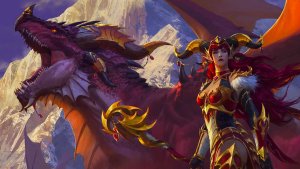 Bybee stated, "We're absolutely not going to leave people without anything to do between now and the next expansion. The intent is to have about every eight weeks more content updates coming and we'll keep doing that until we release the expansion."
What Lies Ahead for Dragonflight?
The specifics of the updates remain shrouded in mystery. However, the commitment to a consistent release schedule is a clear signal that Blizzard intends to keep the Dragonflight saga engaging throughout its final year.
Speculations on Dragonflight's Update Count
Given that "The War Within" is poised for a November 2024 release and considering the recent drop of Patch 10.2, an estimate of five more updates for Dragonflight seems plausible, though not officially confirmed.
No New Zones, But a Promise of Rich Content
"The Upcoming Seasons: PvE and PvP Refreshed"
Dragonflight is set to introduce another season for both PvE and PvP enthusiasts, resetting ladders and dishing out new rewards, though it will not expand the game's map or storyline quests.
The Final Stretch for Dragonflight
The absence of a major patch is a point of contention for some, but the focus remains on maximizing the current expansion's potential before "The War Within" takes center stage.
---
The Strategy is Clear
Blizzard's strategy for World of Warcraft's Dragonflight expansion is clear: keep the momentum going with regular content updates. While some may yearn for more substantial patches, the steady cadence of new challenges and rewards promises to keep Azeroth's heroes occupied as they await the dawn of "The War Within."