The climactic finals of Worlds 23 have kicked off, spotlighting the top eight e-sports teams battling it out in Bo5 series, all vying for the coveted world championship title. With an intense culmination of the Swiss rounds seeing no European teams advancing, the quarter-finals are predominantly dominated by titans from China and Korea. However, the West holds its breath for NRG, the underdog that shocked fans worldwide by defeating G2 Esports and signaling the European downfall.
Matchup Predictions and Schedules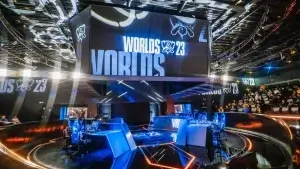 November 2nd, NRG vs. WeiboGaming FAW AUDI
While NRG, the sole western torchbearer, got a favorable draw, they're up against potentially the least daunting adversary in this final stage. Even after their impressive performance against G2 Esports, they appear as the underdogs when facing WeiboGaming. The Chinese powerhouse, helmed by two world champions seasoned with ample experience, clearly stands out as the favorite, especially after their commanding display against a top-form Fnatic.
Betting houses are putting their money on Weibo. Yet, taking a gamble on NRG, although risky, might be worth considering given their latent potential.
November 3rd, Gen.G vs. Bilibili Gaming Pingan Bank
Gen.G, LCK's pride, faces off against their nemesis from the recent MSI. Riding on arguably their annual peak performance, Gen.G looks confident, while Bilibili, having dropped several maps, evokes concern. Yet, Chovy's squad should tread cautiously, especially with Bin's outstanding form on the horizon.
Gen.G emerges as the betting favorite. However, dismissing Bilibili, a formidable and established contender, might be premature. Betting on Gen.G is our recommendation.
November 4th, Beijing JDG Intel Esports Club vs. kt Rolster
The reigning LPL champions and MSI 23 victors, JDG, continue their unwavering march towards the Grand Slam. They appear favored against KT Rolster. Should KT Rolster clinch the title, it would be predominantly at the expense of their regional and Chinese counterparts.
JDG is not only favored for this series but is also pegged for the overall title. Still, KT Rolster's steadily rising prowess suggests that betting on them could yield hefty rewards.
November 5th, Suzhou LNG Esports vs. T1
A tantalizing clash between the two teams that have challenged the formidable JDG lineup the most. The legendary Korean organization T1, having reintegrated Faker into their lineup just in time, has seen consistent growth leading up to these quarters. Opposing them is LNG, which has rejuvenated with Tarzan's peak form, creating a formidable trio alongside Scout and GALA.
T1, the fan-favorite, emerges as the probable victor. However, a nail-biting series with extended, volatile matches is anticipated. Our nod goes to T1.
You can bet for your favourite team in the 22Bet oficial site!
Where to Catch the Worlds 23 Finals?
Tune into the official lolesports page for live coverage of the Worlds 23 finals. For Spanish-speaking League of Legends aficionados, the official LVP broadcast or Ibai's co-stream are the go-to destinations.
The #Worlds2023 Quarterfinals schedule!

Which matchup are you most hyped for? pic.twitter.com/lgwECPweER

— LoL Esports (@lolesports) October 29, 2023
Bet for Your Favourite Team!
While the League of Legends Worlds 23 finals offer exhilarating matchups, placing informed bets could enhance the viewing experience. Our predictions, based on current form and historical data, aim to guide potential bettors. However, always remember to gamble responsibly. League of Legends esports.