Worlds 2023 has made history by setting a new record for the highest peak viewership of any event in esports. The grand finale, featuring Faker and T1's remarkable fourth coronation in Seoul, didn't just match the previous record of 5.4 million simultaneous viewers – it significantly surpassed it.
The Pinnacle of Esports Tournaments
While events like Dota's The International, CS:GO Majors, Free Fire World Series, and Valorant Champions have captivated audiences, League of Legends' Worlds stands as the premier event in esports.
This was emphatically proven as Faker and T1 bested Weibo Gaming to claim their fourth Summoner's Cup. At its peak during the second match, the event reached an astounding 6,402,760 viewers, outstripping the 5,415,990 viewer record set by FFWS Singapore 2021.
ZOFGK.

WORLD CHAMPIONS. pic.twitter.com/Qq2xSjeiSY

— LoL Esports (@lolesports) November 19, 2023
Breaking Down the Numbers
Peak Viewers of Worlds Finals Over the Years

Worlds 2023: 6.4 million peak viewers.
Worlds 2022: 5.1 million peak viewers.
Worlds 2021: 4 million peak viewers.
Worlds 2019: 3.9 million peak viewers.
Worlds 2020: 3.8 million peak viewers.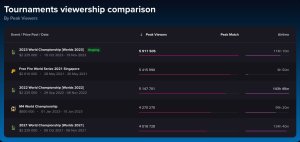 Esports Charts, a leading viewer statistics site, recorded over 5.9 million unique viewers during the League of Legends esports Grand Final. This milestone was not only a testament to the event's universal appeal but also set new audience records in English (1.69M), Korean (2M), and Vietnamese (805K) broadcasts.
The Universal Appeal of Worlds 2023
The most striking aspect of Worlds 2023 was its broad appeal, drawing viewers worldwide, despite a 3-0 series that may not have offered the most nail-biting spectacle.
The sheer magnetism of the event and the possibility of witnessing Faker's fourth Worlds title was a compelling draw. It's speculated that viewer numbers might have been even higher with a more extended series of 4 or 5 matches, yet the event has firmly etched its name in history.