The thrill of esports was on full display with the launch of Worlds 2023's Swiss format, a day dotted with intense matchups, commendable plays, and very few surprises. Let's delve deep into how each team fared in their initial matches and what to expect next.
---
T1 vs Team Liquid: A Clash of Titans
T1, showcasing their Korean prowess, went toe-to-toe with Team Liquid. Despite Team Liquid's early counters and a strong Nashor capture at the 25th minute, T1's outstanding team plays sealed the game at 36 minutes.
---
Cloud9 vs Mad Lions: The American Storm Over Europe
C9's strategic gameplay caught a lackluster Mad Lions off-guard. Dominating objectives and leveraging a Nashor advantage at 23 minutes, C9's methodical play saw them wrap up the game shortly after.
---
Gen.G vs GAM Esports: Predictable Dominance
GAM Esports, despite their valiant efforts, couldn't shake the Korean champions, Gen G. Gen G's early gold lead and Nashor capture by the 20th minute, propelled by Chovy's Ahri, ended the game swiftly in 22 minutes.
---
JDG vs Team BDS: A Glimmer of Hope for BDS
BDS commenced with a strong early game, but the Chinese champions, JDG, gradually dominated. By the 24th-minute mark, JDG's Nashor capture coupled with Knight's Ahri plays proved too much for BDS, sealing their victory in 27 minutes.
---
G2 vs DK: The European Beacon
In an electrifying match, G2 narrowly defeated their arch-rival DK. G2's early dominance wavered with Canyon's Nashor steal. But G2, fueled by Hans Sama's Draven and Mikyx's Renata, clinched a decisive win post the 42-minute mark.
---
Weibo Gaming vs NRG: A One-Sided Affair
Weibo's domination over LCS champions NRG was evident. Their early botlane advantages, backed by Crisp's Leona and Weiwei's Poppy, led to a 5k gold lead by 15 minutes, and a conclusive win in just 30 minutes.
---
LNG vs Fnatic: An Eastern Surge
LNG, leveraging early mistakes by Fnatic, gained an advantage which they maintained throughout. With major contributions from Scout's Azir and GALA's Xayah, LNG defeated the tenacious Fnatic in just over 30 minutes.
---
BLG vs KT: The Showstopper
Closing day one, BLG and KT delivered a game for the ages. Although KT initiated with a gold advantage, the game saw continuous tussles. BLG, however, emerged victorious, with Elk's Xayah playing a pivotal role in their win.
---
All the Emotions of the First Day!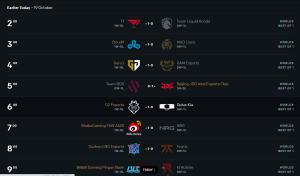 The Swiss format's debut at Worlds 2023 undeniably offered a cocktail of excitement, unexpected twists, and exceptional gameplay. As the tournament unfolds, expect even more electrifying matches, strategic masterclasses, and moments that'll go down in esports history.