As the fiery battles of the Swiss Stage come to an end, Worlds 2023 is geared up to kick off its exhilarating Quarterfinals. With a backdrop set in the heart of South Korea, the world is now poised to witness the riveting journey to the Grand Final. If you're hungry for a comprehensive run-down of the upcoming matchups and the journey so far, you've landed in the right spot.
The Road Leading Up to the Quarterfinals
Since the 10th of October, South Korea has been illuminated with the fervor and passion of the League of Legends global championship. Hosting a whopping 22 teams this year, the event's novel Swiss Stage format paved the way for 16 teams to vie for supremacy. And as Sunday's clashes concluded, the final eight contenders emerged, ready to embark on the next phase.
The #Worlds2023 Knockout Stage draw pools: pic.twitter.com/nca2yKVtL1

— LoL Esports (@lolesports) October 29, 2023
Swiss Stage Standings
JD Gaming (3-0): A force to reckon with, dominating every bout.
Gen.G (3-0): Unyielding and unbeaten, a true titan of the arena.
LNG Esports (3-1): Showing mettle and might, just a step behind perfection.
T1 (3-1): A legacy in their own right, ever relentless.
NRG (3-1): Displaying fierce tenacity, charging through the competition.
KT Rolster (3-2): A roller coaster of performances, yet standing tall.
Bilibili Gaming (3-2): Demonstrating prowess and promise, holding their own.
Weibo Gaming (3-2): Unyielding spirit, proving their worth on the global stage.
Decoding the Matchups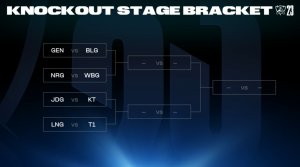 The draw was orchestrated meticulously, segregating teams into three distinct pools, guided by their performance in the Swiss Stage. The top guns, JD Gaming and Gen.G – both boasting a flawless 3-0 score, were pitted against teams with a 3-2 standing. Gen.G, led by the formidable Ruler, are set to lock horns with KT Rolster, while LCK's reigning champs, JD Gaming, will face off against Bilibili Gaming.
Following this, Weibo, the last gem from the Pool 3, joined the elite teams with a 3-1 scorecard – LNG, T1, and NRG. This set the stage for two colossal encounters: League's legend, Faker, with his T1 squadron will challenge LNG Esports; concurrently, LCS's crown jewel, NRG, is prepped to duel with WBG.
The #Worlds2023 Quarterfinals schedule!

Which matchup are you most hyped for? pic.twitter.com/lgwECPweER

— LoL Esports (@lolesports) October 29, 2023
The Final Stages Begin!
The League of Legends esports Worlds 2023 Quarterfinals promises a spectacle like no other, with intense best-of-5 series that will undoubtedly keep fans on the edge of their seats. Starting from the 2nd of November, the realm of LoL Esports is where every moment of action will unfold.