Worlds 2023, the League of Legends world championship, is the event that all eSports fans mark on their calendars. And before its grand opening, there's still one battle left to fight: the Qualifying Series that will decide the last team to enter the tournament. Team BDS and Golden Guardians are set to face off in this crucial duel, and we bring you all the details you need to know.
An Anticipated Duel: Team BDS vs Golden Guardians
The tension is palpable. On October 9th, just before the opening of Worlds, Team BDS and Golden Guardians will clash in the Qualifying Series. These teams represent the best of their region and will fiercely compete for a spot in the Play-In of Worlds 2023.
The format will be a best-of-5 showdown, guaranteeing an intense and exciting series for fans. Moreover, the match will be held in-person, taking place at the prestigious LoL Park.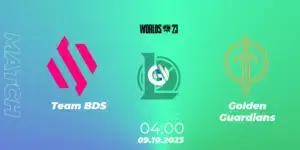 Teams and Line-ups
On the Golden Guardians side, the North American team is formed by standout players such as Licorice, River, Gori, Stixxay, and Huhi. This squad has proven to be a force to reckon with in the LCS.
On the other hand, Team BDS, representing the LEC, comes with players like Adam, Sheo, nuc, Crownie, and Labrov. This French organization has made its mark in the European scene and is ready to prove its worth on the world stage.
Don't Miss the Action!
The Qualifying Series will take place at 22:00 / 23:00 / 01:00, so make sure to set your alarms and be ready to tune in. With the high anticipation surrounding Worlds 2023, especially with the recent release of the "GODS" theme in collaboration with NewJeans, the excitement is palpable.
Worlds 2023 promises to be an unforgettable tournament, held in South Korea from October 10th to November 19th. And with this qualifying series kickstarting the action, we're sure it'll be a spectacular start.
The #LCS and the #LEC will go head to head at LoL Park for the final slot at #Worlds2023!

📍Worlds Qualifying Series(WQS) Match Info.
– Golden Guardians (LCS) vs Team BDS (LEC)
– Oct. 9. Mon. 1PM KST at LoL Park
– Bo5

📍Ticket Sales
– Sept. 12. Tue. 6PM KST
– Interpark Ticket pic.twitter.com/MsSbx3r8hb

— LCK (@LCK) September 9, 2023
The Last Classified is Defined
If you're passionate about League of Legends, this is a face-off you won't want to miss. These teams are ready to give it their all on the battlefield, and only one will emerge victorious. Will it be the North American prowess of Golden Guardians or the European finesse of Team BDS? Make sure to tune in and find out in the League of Legends esports: Worlds 23.