The esports spectacle is at its peak with the commencement of the 2023 League of Legends Worlds. Expectations are sky-high and each match promises unparalleled excitement. Let's delve into what we might expect for the second day of Play-In, and where you might want to place your bets.

Wildcards Face-Off: Flying Oster vs Detonation FocusMe
When discussing wildcard regions, we're referring to those that might not have the prestige of the major leagues but have shown the potential to surprise. In this case, Flying Oster and Detonation FocusMe will go head-to-head in what promises to be an unpredictable and thrilling bout. Here, anything can happen, and predictions might fall short given the unpredictability of the match.
The Giant vs The Newbie: Team BDS vs Team Whales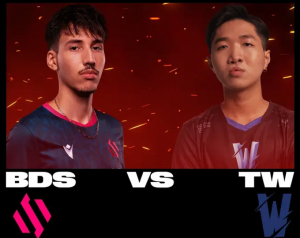 Team BDS: Europe's Favorites
Betting houses unanimously see Team BDS as the favorites in the match, with average winning odds of 1.03. Team BDS's favoritism is no surprise for those who have closely followed the LEC. This European squad has showcased that they have what it takes to compete at the highest level. Even though they had an imperfect run during the LEC Summer 2023, they managed to place fifth and sealed their spot in the Worlds Play-In.
Their most recent memory in competition brings us to the LEC Finals 2023, where they had a head-to-head confrontation with G2 Esports. Even though they couldn't surpass their adversaries, they displayed glimpses of their prowess.
BDS's lineup boasts experienced players like Adam, Sheo, nuc, Crownie, and Labrov.
Team Whales: Vietnam's Underdogs
On the other hand, Team Whales steps into this bout with average winning odds of 10.833, showcasing the clear disadvantage in expectations. Being the second team from the VCS and with 2023 as their debut year, expectations aren't high for this ensemble.
They are made up of Sparda, BeanJ, Gloryy, Artemis, CBL, and Bie, who aim to surprise and show that they shouldn't be underestimated.
Safe Bet!
While there's always the surprise factor in esports, all signs indicate that Team BDS will have a relatively straightforward path against Team Whales. The experience, trajectory, and momentum the Europeans possess seem to be too much for the Vietnamese rookie team.
The forecast is clear: 2-0 Victory for Team BDS. If you're considering betting, the current odds suggest that a bet on Team BDS could be the most accurate choice. Always remember to bet responsibly. Place your bet on the official 22Bet site!