In the electrifying world of League of Legends esports, the Worlds 2023 is the pinnacle of competition. As teams battle for supremacy, the Swiss format rounds have been nothing short of breathtaking. Two noteworthy clashes stood out: LNG's clash with KT Rolster and the match-up of GAM esports versus DKPlus.
GAM esports vs DKPlus: A Tale of Redemption
DKPlus's Rocky Start and Turnaround
Though blessed with talents like Canyon and ShowMaker, DKPlus's initiation into Worlds 2023 was marred with uncharacteristic mistakes. After a disheartening two initial defeats, many questioned their synergy. However, their duel with GAM esports exhibited a different story.
QUADRA KILL FOR SHOWMAKER! #Worlds2023 pic.twitter.com/MwbIcMjWiS

— LoL Esports (@lolesports) October 27, 2023
GAM esports: The Underdog's Journey
Emerging from Vietnam as a wildcard entry, GAM esports had previously left audiences astounded, notably with their unexpected triumph over North America's Team Liquid. This victory positioned them as serious contenders, yet their bout with DKPlus would be a different kind of test.
The Showdown
In their BO3 series, DKPlus exhibited sheer dominance. Commanding the map, they executed proactive plays and consistently outperformed their opponents. Each game wrapped up in under 25 minutes, marking a resounding victory for DKPlus and paving their way for the last Swiss round.
Clean 2-0 for @DplusKIA to stay alive in the #Worlds2023 Swiss Stage! pic.twitter.com/euUwEcdAm3

— LoL Esports (@lolesports) October 27, 2023
LNG Gaming vs KT Rolster: A Battle of Titans
The Stakes and Initial Rounds
With both teams holding a promising 2-1 record, the winner was destined for the next round, leaving the other to grapple for one more chance. The first map saw KT Rolster drawing the first blood, leveraging their Jayce in mid. But "GALA's" Aphelios for LNG was not to be overshadowed. A decisive skirmish at the Baron pit swung the momentum, leading to LNG clinching the first map.
Roles Reversed
The following game was a mirror reflection, with LNG taking early initiative. Yet, KT's strategic selection of Sejuani for the jungle halted LNG's advances. A pivotal Baron encounter swung the balance, propelling KT Rolster to even the score.
Clean First Blood for Zika! #Worlds2023 pic.twitter.com/dCxkOt3La3

— LoL Esports (@lolesports) October 27, 2023
Decisive Duel
The final match presented evenly matched squads, making every move critical. It was here that Tarzan's Wukong, synergizing perfectly with Scout, tilted the balance. Their combined might navigated LNG to a hard-earned victory after 24 minutes, securing their spot in the tournament's final phase.
WELCOME TO THE QUARTERFINALS:@LNG_Esports win game 3 against @KTRolster_tw and qualify for the #Worlds2023 Knockout Stage! pic.twitter.com/G0A8hv8KyV

— LoL Esports (@lolesports) October 27, 2023
Worlds 2023 its On Fire!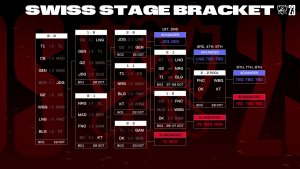 In the grand stage of League of Legends Worlds 2023, every clash is a testament to skill, strategy, and synergy. While DKPlus showcased their potential for redemption, LNG's resilience and adaptability stood out. As we gear up for the concluding rounds, the stage is set for more heart-stopping action and unpredictable outcomes.