In a unique show of regional solidarity, three LCK teams are reportedly scrimmaging with T1 to bolster their preparation for the upcoming semi-final showdown against JDG at this year's League of Legends World Championship.
The Unseen Alliance within LCK
While T1 stands as the lone sentinel for South Korea in a tournament hosted on their home turf, the situation has led to an unprecedented alliance. The identity of two of the assisting teams remains undisclosed, but Kwandong Freecs has been confirmed as one of the strategic partners.
3 #LCK teams, including KDF, have been confirmed as #T1's scim opponents

Tom: Since we're competing with other leagues, it was difficult but we decided to get help from the LCK teams. Several teams were willing to help. Rather than practicing with the LPL teams to prepare for – pic.twitter.com/wHpTpvB8ed

— jade 제이드🐰 (📍🇰🇷) (@jadetokky) November 9, 2023
Why Not Partner with LPL Teams?
There are compelling reasons to refrain from scrimming with rival LPL teams. Notably, to prevent strategic leaks and to protect the meta insights of T1, which could offer LPL opponents an unintended edge.
T1's coach, Tom, commented on the strategy: "Facing leagues abroad is always tough. Hence, we turned to LCK brethren for support. We're grateful for the willingness of multiple teams to assist. Rather than practice against LPL contenders, we choose to unify with LCK's strength to achieve our goals."
The Tactical Edge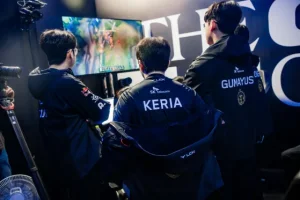 JDG won the critical coin toss and opted for the red side in the upcoming semi-finals. This choice might hint at secret strategies or a desire to counter T1's support, Keria, and his potentially game-changing picks.
This Sunday's best-of-five is widely regarded as the de facto finals, promising high stakes and intense competition.
---
The Regional Allies
In a landscape where regional pride and tactical prowess collide, this year's Worlds is a testament to LCK's dedication to excellence. As T1 forges ahead with the support of its regional allies, the anticipation for Sunday's clash reaches a fever pitch. May the best team claim victory in this grand esports spectacle.