Faker, the renowned "Demon King" of League of Legends, is on a quest to expand his legacy. Fresh off his victory at the Asian Games, which granted him an exemption from mandatory military service, Faker is now eyeing his fourth Summoner's Cup.
T1's Dominance Over LPL Teams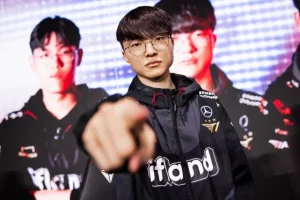 T1, South Korea's last hope in the League of Legends World Championship being held in their home country, has maintained an impressive record against Chinese LPL teams. With their recent victory over JDG, Faker's team extends an unbeaten streak to 7-0 in best-of-five series, with 21 maps won and only 5 lost.
Breaking Down the Stats
T1 has never lost to a Chinese team in the Worlds, winning 18 maps and only conceding four across six best-of-five series. This Sunday, they face off against JDG, the favorites, who are two best-of-fives away from a perfect year, unless T1 or the winner of Weibo vs Bilibili can stop them.
Host Curse, Grand Slam Ambitions, and the Peanut Factor
Apart from Faker's impressive stats, other intriguing narratives are shaping this year's Worlds:
The Host Curse: Since 2014, no team from the host region has won the Summoner's Cup. Teams like G2 Esports in 2019 and Suning in 2020 came close but fell short in the finals.
JDG's Grand Slam Quest: JDG is battling history and statistics, attempting to achieve a feat never done before: winning all titles in a calendar year. With Ruler in top form, they might have the edge, but facing Faker and T1 with a supportive home crowd is a formidable challenge.
The Peanut Factor: Peanut, the jungler for Gen.G, has an unusual trend. His last three losses in best-of-five series have been to eventual world champions (SKT, Samsung, and DRX). This year, his defeat to Bilibili at MSI might hint at Bilibili's potential success in the tournament.
Faker in Bo5s vs #LPL at Worlds:

2013: 3-0 vs RYL
2016: 3-1 vs RNG
2017: 3-2 vs RNG
2022: 3-0 vs RNG
2022: 3-1 vs JDG
2023: 3-0 vs LNG

UNDEFEATED. pic.twitter.com/82c4WnPbP0

— LoL Esports (@lolesports) November 6, 2023
Mark Your Calendar!
The Worlds 2023 is shaping up to be a battle of legends, strategy, and historical trends. As Faker leads T1 with an eye on their fourth championship, the narratives of host curses, grand slams, and surprising contenders like Bilibili make this an event not to be missed.