The DRX skins, the winners of the Worlds 2022, are very close to being released; even some pictures of how they appear in the PBE have already been seen.
League of Legends has been known for constantly updating; this year is no different. The team of developers at Riot Games adds more champions and cosmetics as they release new versions of the game. Some of the skin's lines are new; others are repeated yearly thanks to their popularity. And the World Championship is a clear example of this.
Remember that each winning team player has the right to choose a champion and have a custom look made for them. This is a way to celebrate a team's victory in the most important international competition of the LoL competitive year.
The honor of choosing a champion and having it custom-made has gone to DRX by being crowned champion at Worlds 2022. DRX, the LCK team, defeated the favored T1 squad.
After that important victory, the Korean players revealed which champions they wanted for the individual aspects.
The players chose champions:
Aatrox
Kindred
Akali
Caitlyn
Ashe
Maokai
Since the conclusion of Worlds 2022 and the choice of these characters by the world champions, a little less than a year has passed, so more and more fans are wondering what is going on with this series of DRX skins. They also wonder when they will be added to the game as the year progresses.
When are the Worlds 2022 DRX skins being released?
Thanks to information revealed by Big Bad Bear in one of his videos, it looks like the DRX skins will be available in the game before too long.
Considering that Ink Shadow will be released with patch 13.9, which will take place during the Mid-Season Invitational 2023 (MSI 2023). It is reasonable to assume that these cosmetics will arrive in one or two patches afterward.
If this information is true, the skins of the World's champions should be introduced and available between patch 13.10 and 13.11. Of course, we already know what these new skins of the current LoL world champions look like.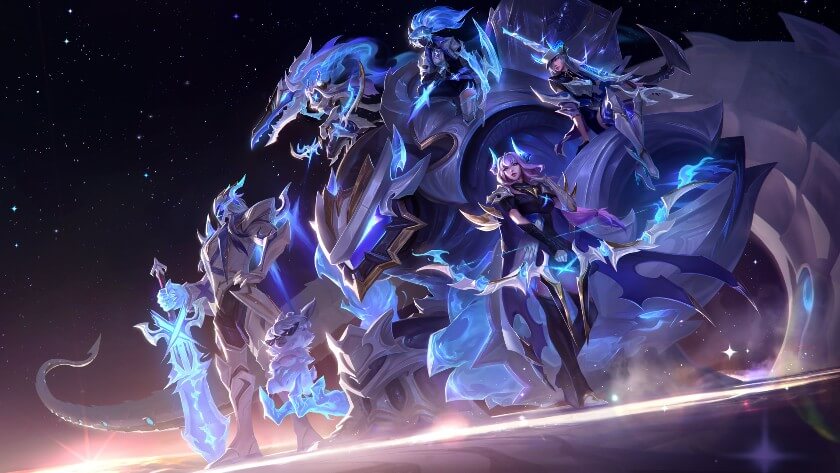 Once again, each player on the winning team has chosen six skins to compete in this international competition. Although the beauty of these commemorative skins once again surprises us, it is not the only "novelty" this year. One of these skins has a distinguished look for the first time. It is Kingen's favorite character, the DRX Aatrox skin.
These skins are already available on the PBE, so that they will be coming soon for the whole community. As previously mentioned, these new DRX skins will be available for purchase between League of Legends patches 13.10 and 13.11.