In an electrifying showdown at the Blast R6 Major in Atlanta, W7M Esports and LOS, two powerhouse Brazilian teams, clashed for the coveted title. W7M Esports, riding on a wave of high-octane performances, ultimately triumphed, etching their name as the tournament's victor.
W7M vs LOS: A Tactical Masterclass
The opening match on Consulate was a strategic showcase, with Nade from W7M Esports dismantling the opposition. His impactful plays led W7M to a solid 7-4 victory, setting a dominant tone for the series.
Chalet: W7M's Dominance Continues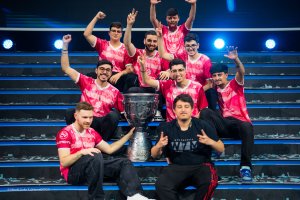 Chalet saw W7M extend their lead, with Herdsz spearheading their aggressive playstyle. His exceptional skills overwhelmed LOS, resulting in a commanding 7-2 win for W7M and pushing them to matchpoint.
Bank: LOS Strikes Back
On Bank, LOS found their rhythm, thanks to Lobin's decisive actions swinging the momentum. His contributions were crucial in securing LOS's first win, keeping their hopes alive in the final.
Café: W7M Clinches the Title
The fourth map, Café, was a nail-biting affair, with both teams going toe-to-toe. Jv92 emerged as the hero for W7M, landing crucial shots that sealed the deal for his team, crowning them as the champions of the Major.
W7M's Road to Glory
W7M Esports' journey to the top at the Major in Atlanta was a testament to their resilience, strategic brilliance, and unmatched skill. Their victory in Atlanta, following their success in Copenhagen, cements their status as one of the premier teams in the Rainbow Six esports scene.
W7M ARE THE ATLANTA MAJOR CHAMPIONS

🏆🏆🏆🏆🏆🏆🏆🏆🏆🏆🏆 pic.twitter.com/820c5YRACk

— Rainbow Six Esports (@R6esports) November 13, 2023
The Final Word
W7M Esports' triumph in Atlanta is not just a win; it's a narrative of consistent excellence and tactical superiority. Their journey through the Major, marked by intense battles and strategic depth, showcases the high-stakes and thrilling nature of professional Rainbow Six competition.