Riot Games, the mastermind behind Valorant, is gearing up for another thrilling competitive season. With the dawn of 2024, changes and new strategies are on the horizon. Here's everything you need to know about what's coming.
VCT Challengers 2024: A Deeper Dive into the Format
The 2024 season of VCT Challengers will span throughout the entire year, starting in January. As it stands, most of the leagues are set to conduct open qualifiers. However, a significant portion will feature dominant teams from the preceding year, 2023.
The main phase of the tournament is set to commence soon after, leading into the playoffs. But that's not all; following the primary division and playoffs, fans will be treated to a promotion and relegation tournament, after which the second division takes the spotlight.
Introduction of the Ascension and Relegation Phase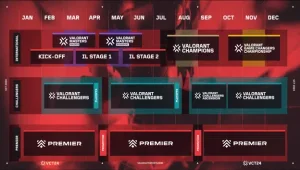 In an unprecedented move, the end of Phase 1 will witness the very first Ascension and Relegation clash between Challengers and Premier teams. Premier squads will be on their toes, battling it out for a shot in the competition's Phase 2. And as the 2024 Ascension Tournaments wrap up in September, enthusiasts can look forward to the kick-off of the 2025 second division season in October.
Affiliate Partnerships and Dual Players
A significant highlight of 2024 will be the inception of affiliate partnerships. This initiative will empower International League teams to forge alliances with organizations from the Challengers and Game Changers circuits.
But the cherry on top? The introduction of dual players. This means professionals not featuring in an International League team's primary roster can exhibit their prowess in the affiliated Challenger and Game Changers team lineup. This maneuver is set to resolve player recruitment challenges that several teams encountered in the past.
It's time to talk about #VCT Challengers in 2024!

For details, roadmap, and more: https://t.co/0jdjxu8pY6 pic.twitter.com/uLntngXQSc

— VALORANT Champions Tour (@ValorantEsports) October 20, 2023
Player Loans in 2024
Another headline-stealing feature for 2024 is the inception of player loans. Contrasting dual players, these loaned professionals won't be eligible to represent their primary squad until the loan duration concludes. Riot Games promises a comprehensive schedule of the VCT Challengers, providing a detailed breakdown for each region.
The new edition of the most important Valorant tournament
The VCT Challengers 2024 season promises an exhilarating blend of competition, strategic team alliances, and player dynamics. With Riot Games' continuous efforts to innovate and elevate the Valorant esports competitive scene, fans and players alike have a lot to look forward to.