At the VALORANT Tokyo Master, Chinese team EDward Gaming leads the list of the most-watched games. The team's fans support them both virtually and physically.
EDward Gaming captures the attention of VALORANT fans
EDward Gaming has stolen all the fans' eyes at the VALORANT Champions Tour Masters Tokyo, both in the group stage and in the playoffs. The Chinese team was not one of the favorites in the tournament; however, they are showing their full potential, so many people are tuning in to watch each of their matches live.
EDward Gaming defeated LOUD, the LOCK//IN champion; in that match, the Chinese team beat their rival 2-0 in the playoffs. EDG's amazing performance in eliminating some of the tournament's favorite teams, such as LOUD, T1, and NAVI, has left everyone speechless. Thanks to those amazing performances of the EDG guys, everyone doesn't want to miss any game of them. It is important to note that this is the third international event EDG has participated in.
The community is watching this Chinese team to see how far they can go in the Tokyo Masters.
This means SO MUCH to @EDG_Edward 👏 #VALORANTMasters pic.twitter.com/qI6ME2Kdak

— VALORANT Champions Tour (@ValorantEsports) June 18, 2023
The most watched matches at the Tokyo Masters
According to the data published by EsportsCharts, two of the six most-watched matches of the Tokyo Masters have been starred by Edward Gaming. For example, the match between NAVI and EDG had just under 400,000 viewers. At the same time, EDG's playoff match against LOUD peaked at 561,711 viewers. In the Tokyo Masters, this match is the only one to have surpassed the 500,000 viewer barrier.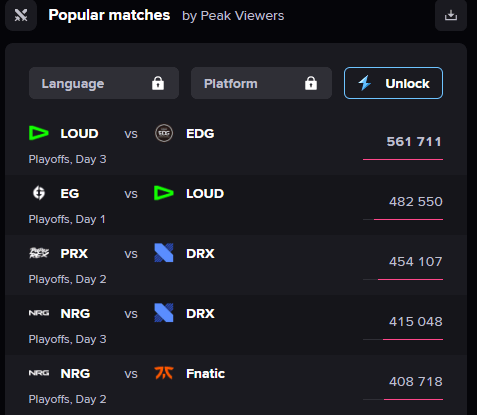 While many people are watching to see how EDG develops during the Tokyo Masters, Zheng "ZmjjKK" Yongkang Yongkang, a player on this team, has won the hearts of many VALORANT fans. This Chinese athlete is dominating many of the tournament statistics.
EDG has managed to beat one of the strongest American teams in the VALORANT competitive scene; this fact has attracted a large part of the Chinese community to support them. But that's not all; the team has gained fans worldwide thanks to their victories.
Right now, foreign viewers are getting attached to this Chinese team and want to see them in action. Previously the teams that attracted the most spectators were TSM, Sentinels, or FPX, but things are changing at the Tokyo Masters. It seems that EDG could become the favorite team of many people worldwide. Their excellent work in each of their matches has been impeccable, and the fans have noticed it.
The spectators are eagerly awaiting the arrival of EDG's next match on June 20. The Chinese team is fighting for a ticket to the finals.