To celebrate the upcoming VALORANT Champions 2023, a limited edition merchandise collection has been announced and will be released in Germany on Tuesday, August 1.
The merchandise clothing collection consists of a jersey, jacket, pin, hoodie, t-shirts and hat. To celebrate the VALORANT Championship, you'll get limited-time cosmetics and items in the form of drops, event passes and champions bundles.
Limited VALORANT Merchandise Collection
A special "VALORANT Champions 2023 Merchandise Collection" has also been released, which is limited and will be sold while supplies last. In this, there will be seven items. This collection was designed to celebrate the tournament, which will be held in Los Angeles, and will also be available for purchase on site.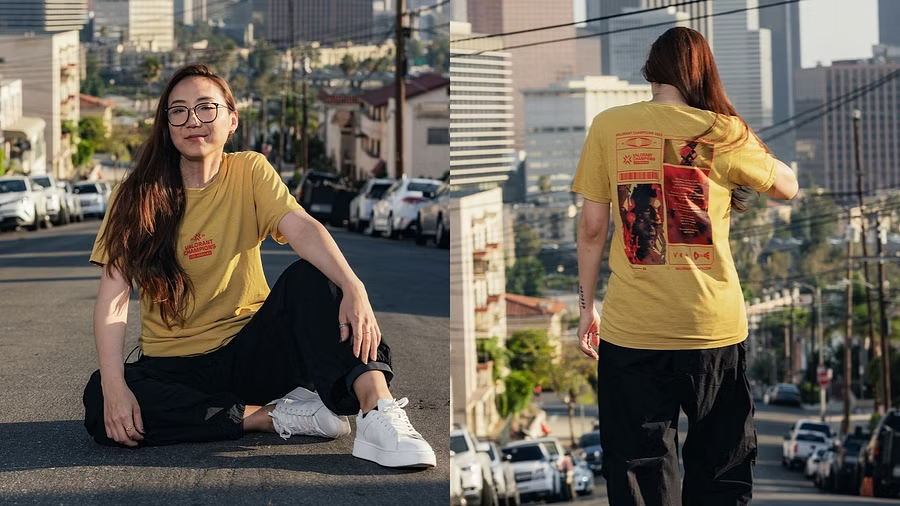 More details on the merch collection, including pricing for each item and shipping details, will be released when everything goes live next week on August 1.
Here are the release dates for the entire collection in various time zones around the world:
Berlin – August 1 at 19:00 CEST (Central European Summer Time)
USA – August 1 at 10:00 AM PST (Pacific Standard Time)
Japan – August 2 at 02:00 AM JST (Japan Standard Time)
India – August 1 at 10:30 PM IST (Indian Standard Time)
Complete Merchandise Collection
The merchandise collection consists of a total of seven items, including a jersey, trucker hat, jacket, enamel pin, hoodie and two t-shirts.
Jacket
A plain black jacket with the VALORANT Champions 2023 logo on the front and a design on the back.
Hoodie
The yellow hoodie is one of the best items of this drop. It simply says "VALORANT Champion" on the front, there is a mini design at the beginning of the sleeve and the trophy is on the back.
T-shirt
A simple t-shirt with a large back design. This mustard colored tee has a lot of writing on the back that looks stuffed, while the front is kept as simple as possible.
Agent Rap Tee
Unlike the other tee, this black tee has a Gekko design on the front and no print on the back.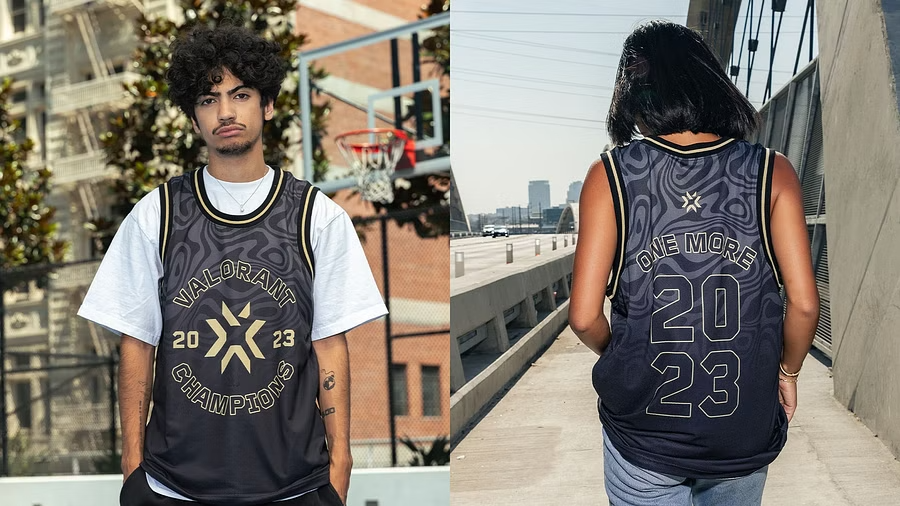 Trucker Hat
A classic trucker hat with the 'One More' lettering on the front outlining the main tournament logo. The design along with the color pattern makes it a real head turner.
XL enamel pin
A large pin with the shape of the trophy and the imprint "One More" is also part of this limited collection.
Basketball Jersey
Since the last championship is held in Los Angeles, California, in the United States, a basketball jersey had to be part of this collection. The jersey follows the design and theme of the tournament and is in black and gold. The slogan "One More" is printed on the back.