EA FC 24 has burst onto the digital soccer scene with a warm reception. However, behind the curtains of this successful launch, there were doubts and concerns from the development team, especially regarding the pivotal brand transition from the renowned FIFA esports.
A Brand Change that Brought Insecurities
The end of the collaboration between EA SPORTS and FIFA resulted in a complete rebranding of the franchise. This drastic turn left many fans questioning the direction of their favorite game modes. Despite the initial uncertainty, EA FC 24 has managed to retain its essence, offering familiar experiences to long-time players while also introducing innovations that have revitalized the series.
John Shepherd Discusses the Challenge of Transition
In a recent interview, John Shepherd, the game's executive producer, shared his thoughts and feelings during the development process of EA FC 24. He stated that they always had two main goals in mind: to project a change towards the future and to assure players that the core of the game would remain intact.
He emphasized the team's resistance to the temptation to completely reinvent the formula, allowing fans to sense that the FIFA they've loved for three decades is still alive under a new brand.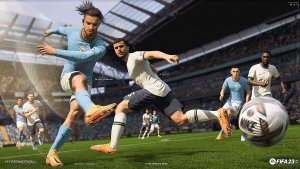 The Essence of FIFA Remains
The transition was not straightforward, and concerns were palpable. The challenge lay in balancing innovation with the preservation of the game's essence. The potential confusion that could arise from such a significant name change was a critical point of discussion among the developers.
However, the commitment to the vision and the final product surpassed any initial insecurity. As Shepherd pointed out, there was initial nervousness at the start, but over time, excitement and confidence in the project grew exponentially.
What Awaits Us in the Future?
For now, EA FC 24 has shown that the decision to retain similar gameplay has been on point. However, the question remains about what the future holds for this renewed franchise and whether we will see more transformations in the upcoming releases.
Slow Transition
Evolution is vital in any industry, and the world of video games is no exception. The transition from FIFA to EA FC 24 shows us that with dedication, passion, and a commitment to the fan base, it's possible to overcome uncertainty and deliver a product that not only meets but exceeds expectations.