EA Sports has pulled back the curtain on its fifth Team of the Week (TOTW) for EA FC 24. This week brings with it a collection of standout cards, perfect for bolstering the strength of your Ultimate Team lineup.
The Evolution of the Team of the Week Concept
For those unacquainted, TOTW is a unique concept where top-performing footballers from the previous weekend's matches get a boosted card in the Ultimate Team mode. Interestingly, these cards were previously overshadowed by other promotional cards that provided superior boosts.
However, FIFA 23 paved the way for change by introducing Highlighted Objects, which provided significant enhancements to weak foot skills and dribbling. This revolutionary approach was carried forward by EA FC 24, which shifted these boosts to the subsequent TOTW version of a player.
Headliners of TOTW 5 in EA FC 24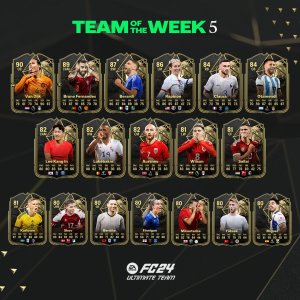 The crux of this week's TOTW lies in its dazzling player cards:
Virgil van Dijk from Liverpool stands tall in defense, leading the pack.
Bruno Fernandes, the Manchester United maestro, shines as a central attacking midfielder.
Sassuolo's right-winger, Domenico Berardi, makes a statement with his inclusion.
Last but not least, Jonathan Clauss from OM secures his place as an impressive right fullback.
Release Timing for TOTW in EA FC 24
For enthusiasts eagerly awaiting these updates, TOTW gets unveiled every Wednesday at 19:00 (ESP) and 11:00 (MX). The official announcement can be located on EA Sports' official X account.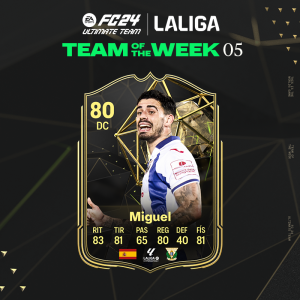 Should You Invest in the TOTW 4 Cards?
When it comes to the market dynamics of these cards, Virgil van Dijk's standard version is already recognized as one of the game's premium center-backs. While his Inform (IF) card is tantalizing, the upgrade is modest. Bruno Fernandes also flaunts an enticing card, but its potentially steep price might not warrant the coins. The dark horse in this collection is undoubtedly Domenico Berardi, who boasts impressive stats.
International break? More like all gas, no brakes.

Team of the Week 5 is live in Ultimate Team.#FC24 pic.twitter.com/1Qj2b6BKuv

— EA SPORTS FC (@EASPORTSFC) October 18, 2023
Recommendations Finales
Considering the allure and potential utility of these cards, Ultimate Team enthusiasts might face a dilemma. If you're seeking to balance performance with cost, it might be wise to prioritize players like Berardi. Nevertheless, always ensure your decisions align with your team's strategy and budget constraints. EA Sports FC24 esports.