The passion for virtual football reaches new heights every time a new Team of the Week is announced in EA FC. This time is no exception. EA surprises fans with the announcement of its fourth TOTW for EA FC 24, promising to shake up Ultimate Team line-ups.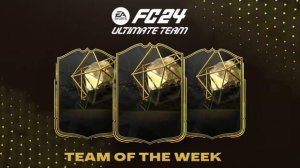 A Tradition that Continues to Evolve
The Team of the Week (TOTW) from EA has become a tradition awaited by thousands of game enthusiasts. It's a nod to the effort and skill displayed on the field during the previous weekend. The standout players are rewarded with enhanced cards that many wish to incorporate into their teams.
However, there have been times when these cards weren't as coveted. In the past, other promotional cards overshadowed the TOTW by offering superior attributes. FIFA 23 sought to balance the scales by introducing Featured Items, focused on boosting the weaker foot and dribbling skills. This advancement was well-received, and EA FC 24 has decided to take it a step further by incorporating these improvements into subsequent TOTW versions.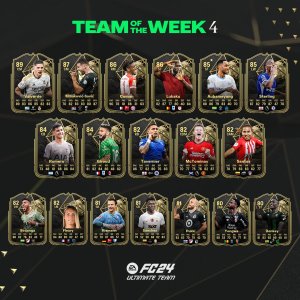 Stars that Shine in TOTW 4
This new team, loaded with talent, is led by world football's great figures:
Fede Valverde, the dynamic midfielder from Real Madrid.
Sergej Milinković-Savić, the midfield stalwart.
Kingsley Coman, the swift MD who leaves his rivals behind.
Romelu Lukaku, the striker with an innate goal-scoring sense.
These players, along with other talented colleagues, promise to bring quality and power to any Ultimate Team.
Launch and Where to Find the Official Announcement
For those eager to obtain these cards, the TOTW is released every Wednesday at 19:00 (ESP), 11:00 (MX). The official EA Sports account (rel="nofollow") is the place where fans should keep an eye out to not miss any details.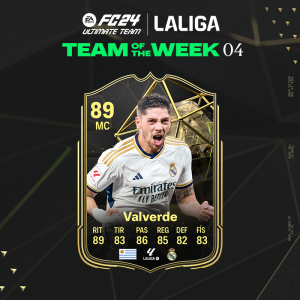 Invest in TOTW 4?
A question that arises is whether it's worth investing in these cards. The answer might lean towards a resounding yes, especially when looking at the high-end range of this TOTW. Valverde stands out as an essential card for those building La Liga teams, while Coman is almost a must-have for those favoring the Bundesliga.
Improve Your Team!
The TOTW 4 of EA FC 24 shapes up as one of the most appealing in this edition. The incorporated improvements and selected talent promise to revolutionize Ultimate Team. Don't miss the chance to enhance your team with these cards.