The ambiance in Busan is perfectly tuned for the autumn delights, with oceanic vibes and city strolls being the norms. But for Kang Seung-lok, known as TheShy, it's all about rekindling his prime and securing a spot in the semifinals of Worlds 2023.
The climax of the League of Legends World Championship has already set its pace, inaugurated by Weibo Gaming's decisive victory over NRG. Yet, the standout performer from Day 1 of the Quarterfinals was undoubtedly TheShy, who fittingly kicked off his 'Last Dance' with AC/DC's iconic 'Back in Black'.
TheShy's Triumphant Reentry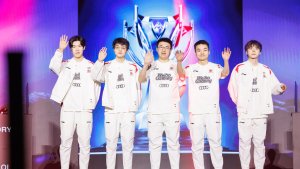 "Cause I'm back. Yes, I'm back." This iconic line from AC/DC's rock anthem resonates with TheShy's emphatic return to the Worlds 2023 Quarterfinals. The top-tier Korean player representing Weibo Gaming made it seem as if the gap between his 2019 appearances and now was merely a few weeks, given the form he showcased.
Overcoming Initial Hurdles: TheShy's First Step in 'Last Dance'
Exhibiting the confidence of a rockstar, TheShy's comeback in Busan was nothing short of spectacular. Worlds 2023 Quarterfinals seemed like a mere formality for him and his team. The prowess he displayed was a stark contrast from his last rendezvous on a similar stage.
Differing from the legendary Quarterfinals of Worlds 2018 against KT Rolster, TheShy this time faced an unexpected adversary. Equally unforeseen as NRG's entry into the Quarterfinals was TheShy's performance, reminiscent of the powerhouse he was back in 2018. The former Invictus Gaming member lived up to 'Back in Black's spirit, asserting NRG not to trifle with his fate and step aside.
SUPER SHY SUPER SHY pic.twitter.com/in2WvtiTir

— Weibo Gaming (@WeiboGamingLoL) November 2, 2023
Dominance in Action
Marking the commencement of the Worlds 2023 Quarterfinals, TheShy's Weibo Gaming crushed NRG with a 3-0 scoreline. This face-off between the two surprising teams from the top 8 global squads wasn't closely fought. The American team's hopes were shattered right after the downfall in the initial match. Assisted by the unstoppable Wang Guang-Yu "Light" with his Aphelios gameplay, TheShy advances to the semifinals, possibly marking his final World Championship, yet holding onto hopes of causing further disruption.
The Curtain Call
In his climactic 'Last Dance', TheShy silenced critics who had earlier labeled his last endeavor as a mere whim. With his formidable and signature Aatrox, Weibo Gaming's top-liner served a poignant reminder to the western realm. Drawing inspiration from the British-Australian rock band, he sent out a clear message to the competitors, "I'm back".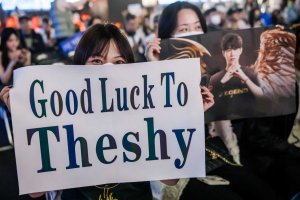 He´s Back!
TheShy's performance in Worlds 2023 has been an exemplar of sheer determination and skill. His choice of 'Back in Black' not only sets the tone for his journey in this championship but also serves as a powerful statement to his competitors. Whether or not Weibo Gaming clinches the title, TheShy's "Last Dance" will undoubtedly be remembered as one of the defining moments of League of Legends Worlds 2023. League of Legends esports