The Apex Legends player community has expressed frustration with the distribution problems in the current season. According to comments made on social networks, most players have been stuck in Master.
Apex Legends Player Distribution – Season 17
According to data published by Apex Legends Status, more than one-fifth of three million Apex Legends players have reached the Master level of the game. It is important to note that previously, only 2% managed to reach this level within the game.
On the other hand, it is also important to note that Apex Legends Status is not linked to the entire community of players. Therefore, to calculate the statistics, you must extrapolate data. In the following image, you can see how is the distribution of players in the different levels of the game: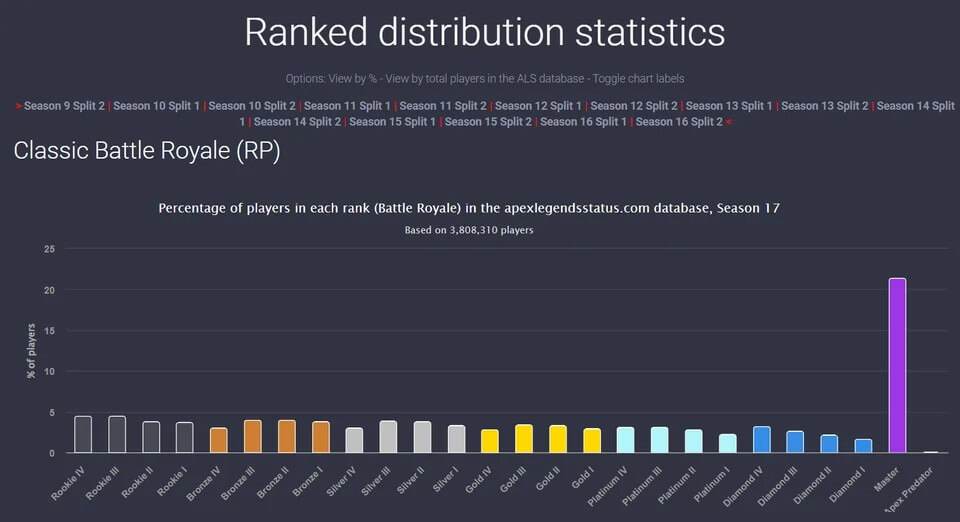 According to Apex Legends Status data, the distribution of players is discouraging, and players are frustrated by it.
Distribution of players in the Apex Legends ranks
In the game, five ranks are subdivided into four sub-ranks before players can reach the Master level. Apparently, this is a fairly complete ranking system. However, the distribution is weakened once players reach the Master level as they are trapped there.
Now, a player in protest mode has posted on Reddit where he wonders if Apex Legends ranks really mean anything. This post attracted the gaming community's attention; many people have expressed discontent and frustration.
Is this a joke? ranked doesnt mean anything?
by u/coolhipo in apexlegends
In one comment, you can read a bronze-level player had the same skills as a platinum-level player.
Comment
by u/Searchingforspecial from discussion Is this a joke? ranked doesnt mean anything?
in apexlegends
On the other hand, one player advises to stop competing in the diamond rank since cosmetic items are scarce at that level.
While many comment that getting to Apex Master level is very easy, another player jokingly comments that he feels bad because he has not managed to advance from bronze.
On the other hand, one player explained that many players have reached the Master level by playing like "rats." These players hide to avoid being annihilated. As a result, players with different skill levels can be found at the Master level, and in most cases, many players are not prepared for that level.
Another player commented that he is frustrated that a very small number of Master level players actually possess the skills to play there.
With the complaints from so many Apex Legends players, the rank distribution system may change within the game. However, we must wait to see if the game developers notice the problem so they can fix it.