The anticipation is palpable as the gaming community awaits the latest installment of the esteemed Tekken series by Bandai Namco. With Tekken 7 leaving a remarkable legacy, the bar is set high for Tekken 8. Let's delve deep into the ins and outs of this upcoming game.
Release Date and Platforms
Unveiled during the September Sony State of Play, Tekken 8 is set to drop on Friday, 26th January 2024. Gaming aficionados can experience the thrill on platforms like PC, PS5, and Xbox Series X/S.
Special Editions and Pre-order Bonuses
Those pre-ordering Tekken 8 can expect some enticing bonuses. An exclusive Paul Phoenix avatar costume awaits for the Arcade Quest mode. PlayStation users, brace yourselves for something special: Mokujin and Tetsujin avatar costumes exclusively for you.
But that's not all!
Deluxe edition purchasers will enjoy:
Playable Character Year 1 pass
Four post-launch characters
Kinjin avatar skin
Gold Suit pack for all 32 characters
Access to the Tekken 8 beta (which ran from 20th to 23rd October)
If you're considering the Ultimate edition, you're in for:
Everything from the Deluxe edition
Exclusive avatar skins for Kazuya, Jin, and Jun
32 unique t-shirt patterns to customize your avatars
A noteworthy mention is the Closed Beta test and the Closed Network Test carried out in July 2023, which encompassed platforms like Steam, PlayStation 5, and Xbox.
Gameplay Features and Roster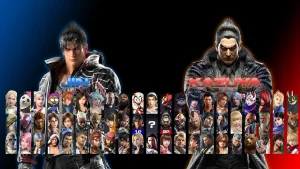 Boasting next-gen visuals, Tekken 8 will feature a roster of 32 iconic fighters. Familiar faces like Paul Phoenix, King, Marshall Law, and Nina Williams will grace the stage, and fans will rejoice with the return of Raven.
The gripping narrative surrounding the Mishima and Kazama bloodlines continues. Brace yourselves for another rollercoaster ride as Jin Kazama confronts his father, Kazuya Mishima, in battles that shape the destiny of the world.
Adding a layer of depth to gameplay, Bandai Namco introduces the Heat System. This mechanic allows players to utilize their aggressive playstyle strategically, infusing unique abilities and movements based on character attributes. As expected, beloved elements like "Rage Arts" and hallmark moves and combos are here to stay.
New Gaming Experience!
Tekken 8 is gearing up to offer an unparalleled gaming experience. Whether you're a long-time fan or a newcomer, this edition promises a mix of nostalgia and groundbreaking features. Ensure to mark your calendars for 26th January 2024 and be part of this monumental release.