In an unprecedented move, Team Heretics is set to redefine the European League of Legends Championship Series (LEC) landscape by acquiring Perkz and Wunder. The iconic duo from the legendary 2019 G2 Esports roster will be joining forces with Jankos, another stalwart of the G2 legacy, in a bid to recreate the magic that once dominated the European scene.
The Glory Days Revisited: G2 Esports Legacy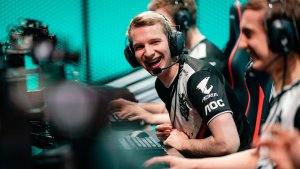 G2 Esports, synonymous with European dominance, achieved unparalleled success with a lineup that clinched two LEC titles, an MSI championship, and a Worlds final appearance. Despite the passage of time and the emergence of new talents, the essence of that quintessential G2 era has been sorely missed.
A New Dawn for Team Heretics
Team Heretics, a Spanish outfit known for its tenacity in the LEC, is poised to shake the very foundations of the league. The addition of Perkz and Wunder to a roster already featuring Jankos is a strategic blend of nostalgia and veteran prowess. With Flakked confirmed as ADC and Kaiser providing support, Team Heretics is not just assembling a team; they're curating a dream for many.
Peter Dun will lend his expertise to the technical staff, ensuring that the team's strategic approach matches the caliber of its star-studded roster. While this lineup raises a blend of anticipation and skepticism, a return to peak performance could see Team Heretics vying for the top spot in the LEC.
Reminiscing of the good old days pic.twitter.com/laZzZshlyZ

— Luka (@Perkz) November 7, 2023
The Rise of a Super Team and Community Tension
Interestingly, the signing comes on the heels of Perkz's public criticism of the Spanish community and the roster developments of MAD Lions. This narrative sets the stage for a compelling 2024 season, with rivalries and community engagement at an all-time high.
The Heretics' Roster for LEC 2024:
Mid Lane: Perkz
Top Lane: Wunder
Jungle: Jankos
ADC: Flakked
Support: Kaiser
New Historic Team?
The resurgence of such iconic players under the Team Heretics banner signifies more than just another season of the LEC; it represents a revival of a legacy. With strategic gameplay, experienced shot-calling, and a fervent desire to reclaim past glory, Team Heretics could very well be on their way to scripting a new chapter in the annals of European League of Legends history.