Worlds 2023 continues to escalate as we approach the penultimate battle of the championship. With only four teams remaining in the quest for the Callers Cup, three hail from the LPL, but it's the sole LCK contender, T1, that draws our focused gaze today.
T1: The LCK's Lone Warrior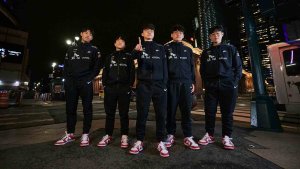 T1, the legendary Korean marque, steps onto the global stage as the underdog with odds hovering around 2.1. Despite consistently reaching the apex of major tournaments, a first-place finish has eluded them, adding a layer of intrigue to their current campaign.
The T1 Lineup: Titans of Tactical Play
Zeus
Oner
Faker
Gumayusi
Keria
Their journey has been arduous, with a 9-9 scoreline in LCK Summer 2023 group stages. Notably, the team's heartbeat, Faker, has returned from an injury, bolstering T1's play with his strategic depth and experience.
JD Gaming: The Tournament Favorite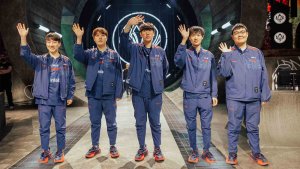 JD Gaming has been deemed the favorite with winning odds at approximately 1.65. Their triumphs in the LPL Spring and Mid-Season Invitational 2023 have set them as formidable opponents on this international stage.
The JD Gaming Roster: A Cohort of Champions
369
Kanavi
Knight
Ruler
MISSING
With a near-record-breaking 14-2 run in the LPL Summer 2023 group stage, JD Gaming has demonstrated why they are the team to beat.
Head-to-Head: A Historic Rivalry
Historically, T1 and JD Gaming have clashed twice, with each team seizing a victory in their previous encounters. T1 overcame JD Gaming in last year's Worlds, while JDG claimed victory at MSI 2023.
Your #Worlds2023 Semifinals schedule! pic.twitter.com/zPY0ur5yuK

— LoL Esports (@lolesports) November 5, 2023
Match Prediction: T1 vs JD Gaming at Worlds 2023
While JD Gaming stands as the formidable series and tournament frontrunner, T1's resilience and historical performance against Chinese teams in bo5 matches at Worlds — an undefeated record in eight appearances — cannot be ignored.
Prediction: A narrow victory for T1.
You can bet for your favourite team in the 22Bet oficial site!
The Anticipate Final
As the match looms, the odds favor JD Gaming, but the heart of the competition lies with T1's indomitable spirit. This match is set to be a fiery contest that will challenge both teams to their limits.