As the Worlds 2023 narrows down to its final confrontations, T1's rendezvous with JD Gaming stands out as a beacon of potential esports history. With Faker's strategic brilliance, T1 looks to disrupt JD Gaming's Golden Road dream, while etching their own saga in the annals of the League of Legends Championship.
The Road to Semifinals: T1's Unwavering Dominance
T1's journey to their eighth Worlds semifinal in as many appearances is nothing short of extraordinary. Their trailblazing victory over LNG Esports not only showcased a masterclass in tactical prowess but also awoke the most formidable version of T1 this season.
JDG VS T1 IN SEMIS. pic.twitter.com/oOY4sxUHzo

— LoL Esports (@lolesports) November 5, 2023
The Last Stand for LCK
Carrying the hopes of an entire nation, T1 stands as LCK's lone sentinel in a crusade against China's esports titan. A fourth Worlds title looms on the horizon for T1, yet the shadow of JD Gaming's impeccable season looms large.
JD Gaming's Quest for Immortality
JD Gaming, the #1 seed from LPL, is on the verge of accomplishing a feat never before seen – the grand slam or golden road. With spring and summer league titles, along with the MSI 2023 under their belt, only Worlds 2023 remains to crown their historic run.
Your #Worlds2023 Semifinals schedule! pic.twitter.com/zPY0ur5yuK

— LoL Esports (@lolesports) November 5, 2023
The Battle of Titans: T1's Unblemished Record at Stake
The clash with JD Gaming is more than just a match; it's a narrative of legacy. T1's unbroken streak of victories in Bo5 series against LPL teams is a testament to their resilience and strategic genius. Yet, with JD Gaming's current form, this match could be the ultimate test.
JD Gaming: A Roster of Legends
JD Gaming's lineup is a constellation of esports stars: from 369's top-lane supremacy, Kanavi's jungle control, to knight's midfield command. Ruler, the planet's premier ADC, completes a squad that rivals even T1's grandeur.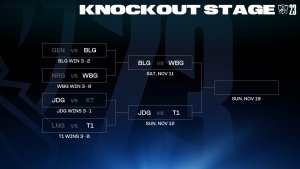 The Anticipated Final Before the Final
With a prelude that feels like a grand finale itself, the T1 vs. JD Gaming match, scheduled for Sunday, November 12 at 09:00, is set to captivate millions worldwide. The precursor to this monumental event will see BLG and WBG battling it out on Saturday, November 11, at the same hour.
New Chapter Awaits to be Written!
The impending showdown between T1 and JD Gaming is not just about victory or defeat; it's about the narrative that will be told for years to come. As legacies hang in the balance and a new chapter awaits to be written, the world watches with bated breath. League of Legends esports.