For people who still use their computers with Windows 7, Windows 8, or Windows 8.1 operating systems, the time to enjoy the Steam game store is running out. However, there are still six months left before Valve stops offering support.
It is important to note that this is not new news. About a month ago, the head of Steam officially announced the end of support. This announcement was made through the beta client and the Steam website. So it is about the development version. However, they have reported that it is already "graduated" and is being distributed to all service users.
All this means that all Steam users running Windows 7, Windows 8, and Windows 8.1 will soon receive the warning. It is important to note that many users have already commented on social networks that this warning has already appeared.
Steam informs Windows 7 and 8 users about the end of support
Many people who still use some Microsoft operating systems wonder how the Steam warning appears. If you use some operating systems that are no longer supported, the warning appears as a banner. This banner, highlighted in red, appears at the top of the application, with a countdown of the days you will have the support.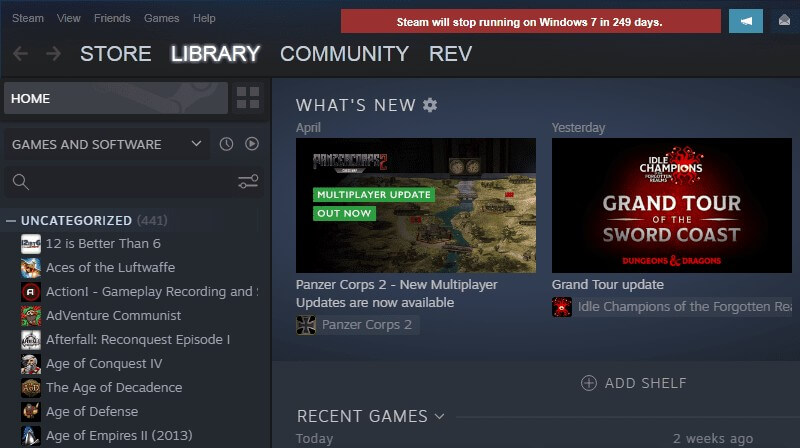 What does the end of Steam support mean?
Many doubts have arisen with Steam's warning about the end of its support for some operating systems. These are some of the questions that users are asking themselves:
Will it be possible to continue using the application once the date arrives, or will they stop receiving Steam updates?
If you are asking yourself this question, we have bad news for you as the system will withdraw all support for non-maintained versions of Windows. In turn, all users of Windows 7, Windows 8, or Windows 8.1 from January 1, 2024, will no longer have access to the game library. So, in short, they will still be able to run the Steam client, but it will all be empty.
Of course, this does not mean that users will lose their game library. However, when using unsupported operating systems, they cannot play any titles, as all connections to the Steam servers will be blocked.
Nevertheless, if the games are downloaded and installed, they will still be playable. However, the experience may not be the best.
It is important to remember that there is always the option of downloading the free Windows 10 update. Also, it is an already consolidated version with no surprises ahead.
Why will Valve stop supporting some versions of Windows?
Many people wonder why Valve is acting this way. Valve is doing it for the same reason as other companies that have stopped support. Remember that those operating systems will no longer be updated and pose a security threat.
In addition, Steam's latest features are based on a version integrated with Google Chrome, which is no longer compatible with older versions of Windows.