The universe of Starfield expands with thrilling updates. Bethesda, always attentive to its community's requests, surprises with innovations that add a plus to the already acclaimed game.
A Stellar Journey
Since its launch, Starfield has positioned itself as a gem among the year's titles. And it's no surprise, as its immersive narrative and detailed graphics have captivated many. However, Bethesda's commitment doesn't stop at launch. Their team, always actively listening to its player base, tirelessly works to refine and enrich the gaming experience.
Long-Awaited by the Community: The Field of View Selector
The latest update has left the community ecstatic. Bethesda has incorporated the much-anticipated field of view (FOV) selector, a detail that might seem minor to some but offers a deeper immersion level for many players. This feature, demanded from the outset, allows users to modify the game's viewing angle. Thus, depending on the chosen configuration, one can have a broader or limited perspective of the spatial environment, adapting to each player's preferences.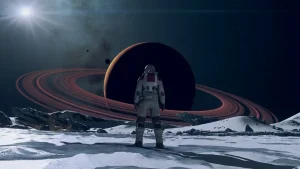 A Bright Future for Starfield
But it doesn't end there. Todd Howard, the game's director, reminds us that Starfield was designed to be a long-lasting title, hinting that surprises and adventures in this virtual cosmos are far from over. Thus, the game not only offers us technical updates and improvements but promises to remain an inexhaustible source of stories and explorations.
Technical Details of the Latest Update
Update 1.7.36
General Improvements
Field of view: New options allow FOV modification in first and third-person perspectives.
Performance and Stability
Special optimization for Intel Arc graphics cards in the PC version.
General improvements in stability and performance.
Adventures and Missions
Echoes of the Past: Correction of an error that could interrupt game progress due to incorrect positioning of the digging creatures.
Will it Become a Historic Game?
Starfield continues to demonstrate why it is one of the most anticipated and acclaimed games of the year. Bethesda keeps listening to its community and adapting the game to offer the best possible experience. If you haven't tried this title yet, it's the ideal time to embark on this space adventure. And if you're already a veteran player, these updates promise to enhance your experience even further.