The Dota 2 ecosystem is in constant flux, and SMG is no exception. Just days away from one of the scene's most prestigious events, The International 12, the team announces critical adjustments to its lineup. These changes could determine their performance in the tournament. Let's delve into what's happening.
Heen, the Strategic Mind for SMG at TI12
Lee "Heen" Seung Gon, the well-known coach of the famed European team Team Secret Korea, embarks on a new challenge. In a surprising move, Heen joins Team SMG as its head coach for the upcoming The International 2023. The news, shared on the club's social media, has left many eager to see the strategies Heen can bring to the Asian team.
MinD_ContRoL Boosts SMG's Offense
Another bombshell announcement is the addition of Ivan Borislavov "MinD_ContRoL" Ivanov, formerly the offlaner for Nigma Galaxy Bulgaria. This high-caliber player will compete with Team SMG at TI12. The reason for this shift stems from visa complications for Natthaphon "Masaros" Ouanphakdee, the team's previous offlaner. Despite rumors about the possible participation of Clement "Puppey" Ivanov as a substitute, Jaunuel "Jaunuel" Arcilla confirmed he's obtained his U.S. visa.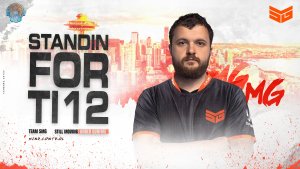 The Challenge of The International 2023
The esteemed The International 2023 tournament promises to be an intense battlefield. Located in Seattle at the iconic Climate Pledge Arena, 20 teams will seek glory from October 14th to 29th. With a prize pool starting at 1.6 million dollars, and boosted by 25% of the new compendium sales, expectations are high.
SMG at TI12: The Lineup to Beat
Below, we present the official Team SMG roster for TI12:
Vladimir "Noone" Minenko

Yeik "MidOne" Nai Zheng

Ivan Borislavov "MinD_ContRoL" Ivanov (Substitute)

Mar "ah fu" Pronto Chuan

Jaunuel "Jaunuel" Arcilla

Lee "Heen" Seung Gon (Coach)
The Journey Begins
The journey for Team SMG in The International 2023 appears challenging. With additions like Heen and MinD_ContRoL, the team aims for a competitive edge. However, changes always come with their share of uncertainty. Will SMG establish itself as a strong contender with these new inclusions? Time and performance in the tournament will tell.