The sticker of one of the best players of the Paris Major that is s1mple is among the most expensive of the tournament. However, it is not in the first place. The stickers of the three other players are the most expensive in the Paris Major.
Undoubtedly, Ukrainian player Oleksandr "s1mple" Kostyliev has been among the best players in CS:GO history. However, the popularity of his Paris Major sticker has been surpassed by the popularity of Ilya "m0NESY" Osipov, Mathieu "ZywOo" Herbaut, and Robin "ropz" Kool.
The s1mple sticker is not the most expensive in the Paris Major
Thanks to the popularity of the players m0NESY, ZywOo, and ropz, their gold stickers are the most expensive of the Paris Major. As a result, the sticker of the best CS:GO player in the world is in the fourth position.
As of today, May 12, the stickers of these four players have the following prices. m0NESY beats all other players on the list with a sticker price of $ 348.48; then follows ZywOo, with the gold sticker price at $ 201.66, followed by ropz's sticker with a price of $ 1 49.50. Now, in third place is s1mple, with the price of its gold sticker at $144.26. In this particular sticker popularity competition, s1mple is far behind the first two rivals.
The sticker price is only one consideration, of course, but m0NESY's level of popularity is certainly high. Despite being only 18 years old, he is one of the best players in the world and joined G2 from the Natus Vincere youth club in 2022.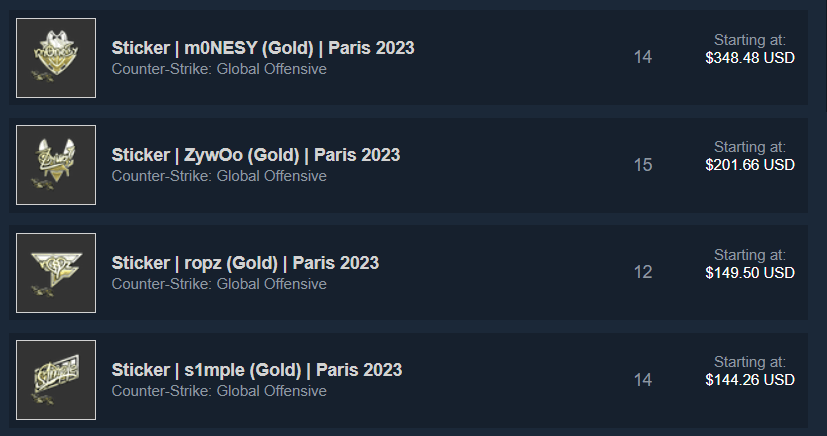 The popularity of m0NESY in Paris Major
As we already mentioned before, just at the time of writing this article, the price of m0NESY's sticker is much higher than the rest of the players' stickers. Therefore, it can be said that since the beginning of m0NESY's career, its popularity has been increasing exorbitantly. So much is his popularity that in the other tournament, he participated in, the PGL Antwerp, his gold sticker was the most expensive one.
Now, the Major de Paris repeats history and has the most expensive gold sticker of the tournament again. But, again, we must emphasize that the selling price in the Steam community market is well above that of the best players in the world.
We have yet to see how the rest of the Paris Major plays out, but it is possible that these three players could find themselves in a showdown at the Legends stage. There is no doubt that seeing s1mple face ZywOo and m0NESY would be a great spectacle for all CS:GO fans. So the sticker prices could change depending on what happens.