From the exhilarating adrenaline of car soccer to intense battle royale showdowns, gaming enthusiasts around the world are gearing up for a crossover like no other. Dive into our deep dive on everything known about the Rocket League Racing's debut in Fortnite.
Origins of the Buzz: How It All Started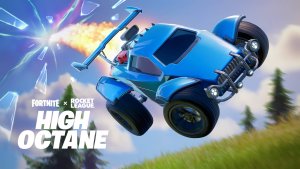 Whispers began with Jacob Wolf, a notable gaming journalist, sparking intrigue about the possible blend of Rocket League Racing and Fortnite's upcoming Chapter 5. He shed light on internal movements at Epic Games, suggesting that staff reallocations were underway to facilitate this groundbreaking project.
From Hints to Headlines: The Confirmation
It didn't take long for the speculative embers to ignite into a full-fledged firestorm. The gaming grapevine is abuzz, with leakers now almost confirming the merger. Here's our knowledge distilled on this much-talked-about collaboration.
🚨 The rumoured Rocket League Racing game mode is set to arrive in Chapter 5 (November 3, 2023), via @HYPEX.

Players are set to be able to port their Rocket League presets into Fortnite, which is why player-to-player trading was removed.

More details below… pic.twitter.com/yp3jqBQanp

— Rocket League News (@RLRecon) October 25, 2023
Understanding Rocket League Racing in Fortnite
While details remain elusive, one vital piece of information has surfaced from the depths of the rumor mill. Players might rejoice or recoil at the possibility of porting their Rocket League presets into Fortnite. This promises a blend of customization and gameplay dynamics that could reshape the gaming landscape.
In a seemingly correlated move earlier, Epic's decision to eliminate P2P trading from Rocket League was justified as a step towards integrating Rocket League elements into other Epic offerings.
Epic Games is in the process of moving some staff over to one of their 5 big projects. This is via a senior leadership email obtained by @JacobWolf last month. The projects are:

– Fortnite x LEGO
– Fortnite Chapter 5, UEFN & a Harmonix Festival
– Rocket League Racing pic.twitter.com/x6iecRf2DA

— HYPEX (@HYPEX) May 29, 2023
Community Chatter: Players Weigh In
The forthcoming integration hasn't been universally celebrated. Concerns emerged post-Epic's acquisition of Rocket League, with many fearing Psyonix might lose its authoritative grip on the game. The most speculative of gamers even mused about Rocket League's potential transformation into a mere Fortnite game mode.
One can't dismiss vocal critiques from the community, like the Rocket League aficionado exclaiming, "This gotta be the biggest L of all time, bro."
UPCOMING "Rocket League Racing" FORTNITE MODE ‼️

Fortnite is dropping a "Rocket League Racing" mode in Chapter 5, and you'll be able to port your Rocket League vehicles into Fortnite and customize them in an upcoming Garage. [VIA @NotJulesDev] pic.twitter.com/nFlgGNyeQE

— HYPEX (@HYPEX) October 25, 2023
Anticipation Peaks: The Timeline
Eyes are now firmly set on Fortnite's Chapter 5, heralded by the ending of Chapter 4 Season 5 on November 3, 2023. The exact timeline for Rocket League Racing's launch remains shrouded in mystery. Whether it debuts alongside the season's commencement or makes a mid-season splash is yet to be seen.
The Collaboration Between Two Giants!
The melding of Rocket League Racing with Fortnite represents not just a game mode integration, but a meeting of two colossal esports gaming cultures. While the jury's still out on its reception, one thing's certain: the virtual realm is set for a shakeup.