Rocket League is about to merge with the mystical land of Halloween Town. As autumn's chilling grasp tightens, players are treated to a collaboration celebrating the 30th anniversary of Disney's iconic film, The Nightmare Before Christmas. With Jack Skellington, the Pumpkin King himself, steering the wheel, Rocket League's Haunted Hallows is taking a hauntingly delightful twist this year.
The Nightmare Before Christmas Meets Rocket League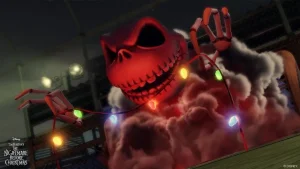 When vehicular soccer meets iconic movie magic, the results are spellbinding. Rocket League's announcement about its collaboration with Disney has left fans eagerly anticipating the dark enchantments set to spread across the pitch.
Rocket League's Haunted Hallows Event will feature:
Special Modes to Haunt the Farmstead
Chilling Cube (October 18-24): A frosty take on the regular gameplay.
Haunted Heatseeker (October 24-November 1): Heatseeking challenges wrapped in a ghostly aura.
Exclusive Rewards to Reap
Bolt Head Topper: Enhance your car's look with this unique piece.
Vintage Vampire Teeth Antenna: Show off your bite in style.
Golden Pumpkins (x5): Unlock goodies from the Elevate, Turbo, and Zephyr series.
Creep Jar Player Banner & Avatar Border: Embrace the eerie aesthetics.
Plus, don't miss the Octane Decal and the title proclaiming you as The Pumpkin King.
Spooky Store Splendors
The Nightmare Before Christmas Mega Bundle – Featuring all the ghastly goodies below for a mere 2000 credits.

Sally Decal (Universal): Available separately for 300 credits.
Jack Skellington Bundle (1500 credits):

Zero Topper: Represent Jack's loyal ghost dog.
Jack Skellington Decal (Octane): Adorn your Octane with the spirit of Halloween Town.
Jack Skellington Goal Explosion: Ensure every goal is an explosion of haunting delight.
"This is Halloween" Player Anthem: Also available for individual purchase.
Jack Skellington Player Banner & Spiral Hill Wheels.

Oogie Boogie Bundle (800 credits):

Oogie's Worms Boost: Drive with the creepy crawlies.
Oogie Boogie Decal (Universal): Let the boogeyman grace your vehicle.
Oogie Spin Wheels.

Sandy Claws Bundle (500 credits):

Sandy Claws Topper: Drive in festive style.
Man-Eating Wreath Wheels.
Get Ready for the New Event!
Rocket League continues to bring immersive themes and collaborations, enhancing player experience. This collaboration is not just a treat for the fans of The Nightmare Before Christmas but also adds depth and flavor to the game. With the visually captivating skins, decals, and modes, the Haunted Hallows event promises a unique blend of soccer and spook. Get ready to hit the ball in Halloween Town style!