After a long workday, we all look forward to unwinding in our living room with a captivating game on our PS5. However, it's often the case that someone else is already using the television. Even though consoles offer remote play functionality through smartphones or PCs, the experience rarely measures up to the genuine console feeling.
Sony has unveiled the perfect solution: the PlayStation Portal, a novel peripheral that delivers a gaming experience identical to PS5's DualSense, but on a portable device equipped with its own screen. What's more, it's now available for preorder at 219.90 euros.
Key Features of the PlayStation Portal
PlayStation Portal is set to officially launch on November 15th. Preorders can be made immediately via the provided links.
Designed as a peripheral, this device allows players to engage with games installed on the PS5 remotely, no longer dependent on an unoccupied television. It integrates all the hallmark features of the DualSense controller, including haptic feedback and adaptive triggers.
Centrally positioned on the device is an 8-inch LCD screen, boasting a maximum resolution of 1920 x 1080 pixels, and a refresh rate of 60 Hz. Additionally, the device has been meticulously designed for user-friendly setup: simply power it on, press a button to connect to the PS5, and dive into gaming.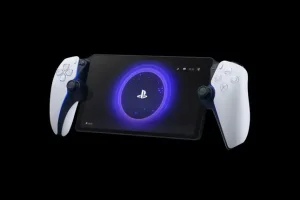 Final Recommendations
The PlayStation Portal is a worthy investment for those eager to relish their PS5 games without the constraints of an occupied TV. Don't miss out on reserving this groundbreaking device and elevating your gaming experience.