Renowned European League of Legends player Rekkles is making a bold move by joining the academy team of T1 for the 2024 LCK season. This decision marks a significant shift in his career, transitioning from a prominent role at Fnatic to a support position at one of the world's most prestigious esports organizations.
Inside the Deal: Insights from Sheep Esports
Reported by Sheep Esports, an outlet established by LEC Wooloo, this development has stirred the esports community. Rekkles was frequently seen at T1's facilities in Seoul during the recent Worlds event and reportedly participated in scrims with T1 Academy.
Win-Win for Rekkles and T1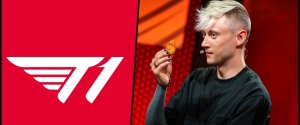 Benefits for T1:
Marketing Impact: Signing Rekkles boosts T1's brand visibility.
Enhanced Academy League Metrics: Attracts more attention to LCK's academy tournament.
Content Creation Opportunities: Potential for unique content and merchandise like T1 Rekkles jerseys.
Advantages for Rekkles:
Skill Enhancement: Opportunity to refine skills and learn from the best at T1.
Competitive Exposure: Playing in Korea's SoloQ, known as the world's most competitive server.
Future Prospects: Potential return to Europe in 2025 with enhanced skills and reputation.
A Competitive Attitude and Redemption
Rekkles' decision reflects his competitive spirit and desire for redemption. This move also signifies his effort to reshape his reputation, which has been marred by past difficulties in team dynamics within LEC/LCS Europe.
[SOURCES] Support Rekkles 🇸🇪 has reached a verbal agreement with T1 as he will play for the academy team in the LCK Challengers League.

More details by @LEC_Wooloo https://t.co/wskuypMmJz

— Sheep Esports (@Sheep_Esports) November 20, 2023
An Unexpected Shift in League of Legends Esports
As the esports world watches Rekkles' transition to T1 Academy, his journey will be a testament to the dynamic nature of competitive League of Legends. This move could redefine his career and potentially set a new precedent in player development and team strategy.