The International, the most anticipated tournament of the year in the Dota2 esports world, has concluded its second day. Teams fought determinedly to secure a spot in the next phase, and here we bring you all the details.
Group A: Team Spirit Dominating the Scene
Team Spirit once again shows why they're considered one of the favorites to win the title. With an impeccable performance, they remain undefeated and take the lead in the group with 8 points. Following them are Entity and 9pandas, teams that have surprised with their skill and finish with 4 points each. Despite the challenges, EG and SMG manage to hold on, with EG taking the lead in the standings.
Group B: Team Liquid and BetBoom Leading the Way
Team Liquid doesn't let up and crowns itself leader of Group B with 7 points. However, BetBoom isn't far behind, securing a crucial victory in their last match and tallying a total of 6 points. Azure Ray and Shopify Rebellion fight to stay afloat, while Thunder Awaken, unfortunately, bids farewell to the tournament.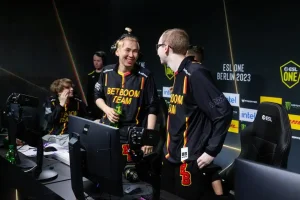 Group C: LGD on the Rise
The team LGD stands out and claims the undisputed leadership of Group C. Gladiators manage to recover from a shaky start and sit in second place. Virtus.Pro and Nouns continue in the battle with 3 points each. However, it's BeastCoast who says goodbye to the tournament.
Group D: Tundra Esports at Their Peak
Lastly, Tundra Esports sets the pace of Group D with memorable games and a solid strategy. TSM and Talon hold their ground, while Keyd Stars looks to spring a surprise. Quest Esports ends their journey in this phase of the tournament.
The End of the First Phase!
The tension is palpable in every match, and the next phase promises to be even more thrilling. The advancing teams have their eyes on the prize, and every move will be crucial. Stay tuned for the upcoming matchups and support your favorite team.