The new keyboard presented by Razer is the Huntsman V3 Pro, designed for gamers looking for a high-end model.
Razer unveils the Huntsman V3 Pro
Razer has unveiled the Huntsman V3 Pro keyboard at its RazerCon 2023 convention. This is one of our favorite high-performance keyboards for PC gaming; it's yet another model in the manufacturer's large inventory of high-performance keyboards.
Razer has released the best high-end keyboards for a couple of years. Remember the Huntsman V2, which was quite impressive. That keyboard, to this day, is still among the best optical-mechanical keyboards on the market. Now comes the renewal of this model, which is expected to be much better than the previous one.
Details of the Huntsman V3 Pro
Razer has thought about the tastes of its users, which is why it has released three versions of the Huntsman V3 Pro series. The first version is the Huntsman V3 Pro. It is a full-size keyboard that includes a numeric keypad. The second version is the Huntsman V3 Pro Tenkeyless, a smaller keyboard without the numeric keypad. The third version is the Huntsman V3 Pro Mini, a much more compact keyboard.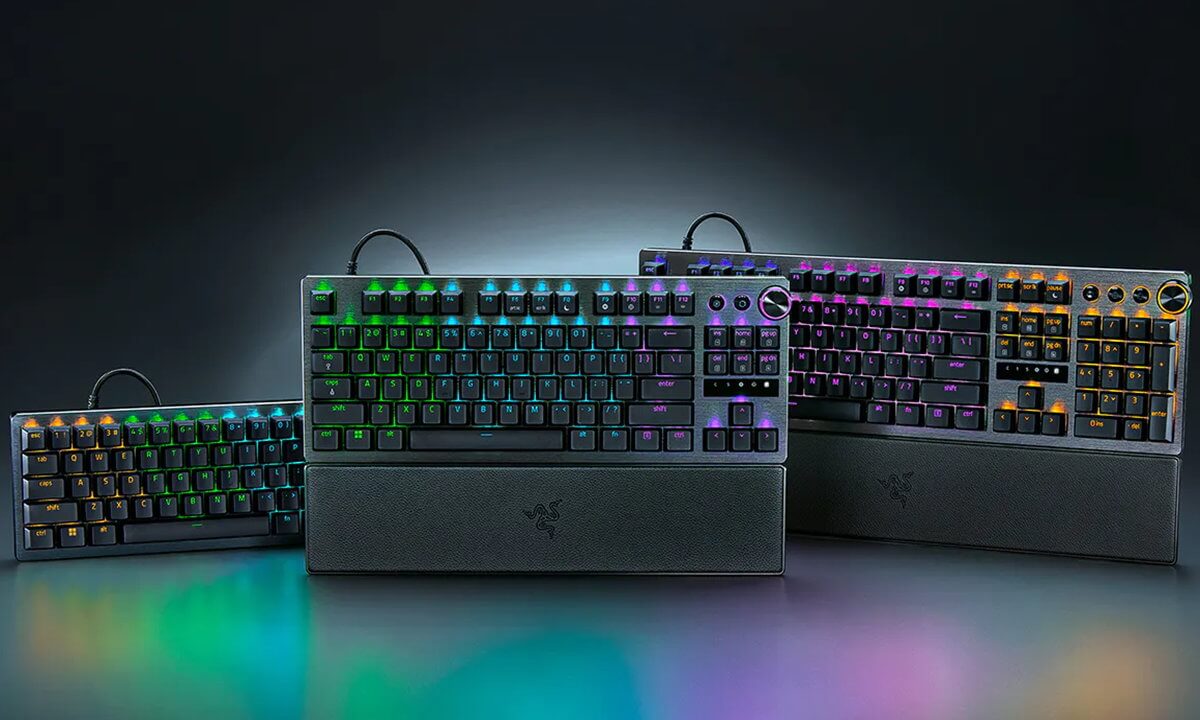 This trio of keyboards receives the improvements the manufacturer has prepared for these peripherals from the base, offering the firm's exclusive second-generation analog optical switches. In addition, the design of the dual-function modifier keys and dedicated multimedia control buttons has been modified. The multi-function digital dial has also been updated for ease of use.
In terms of appearance, Razer maintains the line of sobriety and hardness but with that premium product feel that permeates all its sections and the lighting options provided by the Chroma RGB technology, which offers 16.8 million possible color combinations. The top is made of aluminum and has a matte black surface that deters fingerprints while adding strength and aesthetic appeal,
On the other hand, the keyboards have textured, double-injection molded PBT keys that are better than regular ABS keys. They also have HyperPolling technology, which promises exceptional keyboard performance because every keystroke is immediately translated into action, thanks to its 8000+ Hz polling rate.
Other details of the Huntsman V3 Pro
On the other hand, the Huntsman V3 Pro keyboards can save up to six profiles directly into the keyboards' built-in memory. In addition, they can change settings on the fly. In turn, the Huntsman V3 Pro keyboards allow users to play with their optimal settings regardless of the computer to which they are connected. Of course, the Razer Synapse software can also be used to manage them.
On the other hand, these keyboards feature many sophisticated capabilities, such as the N-key rollover function, which allows you to register all inputs and execute multiple tasks simultaneously. It includes a removable wristrest made of soft synthetic leather. It attaches to the bottom of the keyboard via a magnetic connection, making it a useful accessory for hours of use.
Huntsman V3 Pro Pricing
The Huntsman V3 Pro keyboards will go on sale in October, and prices are as follows:
V3 Pro: $249.99
V3 Pro Tenkeyless: $219.99
V3 Pro Mini: $179.99