Nintendo, the gaming giant known for its iconic franchises, recently found itself in hot waters with the competitive Smash scene. Following the company's release of its strict Community Tournament Guidelines, whispers within the community hinted at some profound disagreements. But a recent leak has now thrown light on the planned but failed Panda Cup 2023.
A Shaken Competitive Smash Scene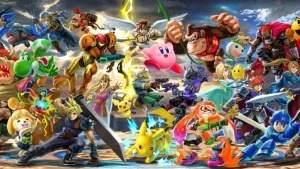 The Panda Cup 2023 was not a mere tournament. It was envisioned as a union between Nintendo and the thriving Smash community—a competitive season punctuated with a series of tournaments culminating in the Panda Cup Finale. Sadly, internal politics involving Panda Global, Nintendo, and Smash's key tournament organizers led to a premature end to Panda's Smash ventures, with Nintendo retracting its support.
But who really was at fault?
The Leaked Pitch Deck Stirs the Pot
Many in the Smash community have long held grievances against Nintendo. But the recent leak of Panda's pitch deck has redirected some of this anger inwards. An anonymous tournament organizer, going by the pseudonym "Skibidisammy", unveiled the entire pitch deck he received from Panda Global. Contrary to expectations, the revealed details painted a very different picture.
The pitch deck showcased a robust plan:
A whopping $620K earmarked for sponsorships, with major events like The Big House standing to benefit.
Organized and streamlined marketing strategies from the trio: Panda, PGStats, and Nintendo.
Testimonials from professionals lauding the enhanced production quality at Panda Cup events.
Furthermore, a glance at the event's production details revealed an impressive lineup of on-the-spot content, including interviews and videos. Such high-quality content had previously drawn a record 32K peak viewership at CEO 2022.
The Financial Implications: A Lost Opportunity?
One slide, in particular, caught the community's attention, revealing potential partnership agreement payments. Though certain details were redacted for confidentiality, disclosed figures showed tournament organizers stood to gain anywhere between $50K to $120K for hosting an event.
This revelation was a bitter pill to swallow. Many tournament organizers (TOs) often grapple with financial constraints, and the Panda Cup seemed like a beacon of hope. But instead of reaping its benefits, the Smash community now faces a looming shadow of stringent regulations from Nintendo—threatening the very essence of both LAN and online events.
Panda Cup 2023

I am a Tournament Organizer whose event was originally scheduled for Panda Cup 2023. This is the pitch deck Panda shared with me at the time of negotiation. pic.twitter.com/q7PPv0h3x3

— Skibidisammy (@skibidisammy) October 24, 2023
Reevaluating The Accusations
This leak prompted many within the community to introspect. It became evident that the initial accusations against Panda and its then CEO, Alan Bunney, might have been misplaced. Despite facing harsh criticisms from prominent figures like Juan "Hungrybox" DeBiedma, Bunney's attempts to share his side of the story had largely fallen on deaf ears.
The Failed Collaboration
The Panda Cup 2023 leak serves as a timely reminder for the community to pause and reflect before jumping to conclusions. Collaboration between giants like Nintendo and grassroots communities can be a game-changer, but mutual understanding and transparency are paramount. The Smash community, with its passion and dedication, deserves growth and support. Hopefully, lessons from this episode can pave the way for better partnerships in the future.