The gaming world is abuzz with the return of the highly anticipated Overwatch World Cup 2023. Gamers and enthusiasts from all corners of the globe eagerly await the spectacle. From schedules and team listings to star players and surprise entries, let's unravel all the details of this global gaming phenomenon.
The 2023 Line-Up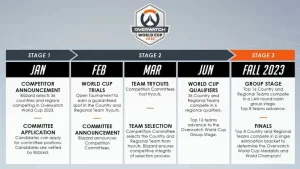 Spanning continents, the Overwatch World Cup 2023 boasts a diverse range of teams. Sixteen teams have secured their spots, with China receiving a special invitation. Here's a breakdown of the qualifiers:
North and South America:

United States
Canada
Mexico
Colombia
Brazil

Asia:

South Korea
Japan
Hong Kong
Australia
Thailand
China (Invited)

Europe:

Great Britain
Spain
France
Finland

Middle East:
Road to the World Cup: Team Trials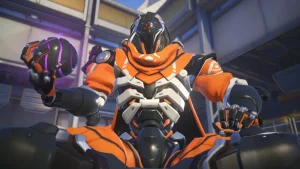 The journey to the Overwatch World Cup is paved with challenges. This year, the top-performing Overwatch 2 teams in each World Cup Trial took home a hefty $2,000 USD. These victorious teams then advanced to the Team Tryouts phase, culminating in the crucial Team Selection stage.
Americas Group A
Canada: Not Americans
Costa Rica: Hellcats Esports
Guatemala: Team Frijolitows
Mexico: Midnight [Advanced to the Overwatch World Cup Group Stage]
Puerto Rico: Nix Boriquas
United States: Greaseballs [Advanced to the Overwatch World Cup Group Stage]
Americas Group B
Argentina: Improvisados
Brazil: War Pigs
Chile: Free Agent Boyz
Colombia: Mondongos
Ecuador: Yapingacho
Peru: Team poke
Europe and Middle East Group A
Belgium: The Wild Boars
France: les gars si
United Kingdom: MWaimone
Italy: NO ITAS HERE
Netherlands: Koning Willem FC
Spain: Andrés Iniesta
Europe and Middle East Group B
Germany: German Crusaders
Norway: Funnyguys!
Poland: Fakejake's path to t2
Saudi Arabia: Burn out fire
Sweden: Nangijala Outlaws
Turkey: Istanbul Janissaries
Asia-Pacific Group A
Taiwan: Roll Momo
Hong Kong: Cheng Du Brothers
Indonesia: BANG MESSI
Japan: VARREL
Philippines: Winton overwat
South Korea: An Elite
Asia-Pacific Group B
Australia: Ceebs
New Zealand: South Auckland Drillas
Singapore: LE SSERAFIM
India: LINEAR
Malaysia: Top Skills College Gaming
Thailand: DAF E-sport
Recomendaciones Finales
The Overwatch World Cup 2023 promises fierce competition and unexpected turns, with the world's best teams vying for supremacy. Fans worldwide should mark their calendars and gear up for an electrifying gaming experience.