In an unexpected turn of events at Worlds 2023, NRG marks a significant milestone as they powerfully overtake G2 Esports, securing a spot among the top 8 teams.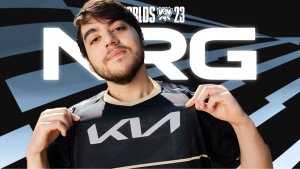 Breaking the Mould
The ongoing League of Legends World Championship inches closer to concluding its Swiss Stage. As it progresses, it's evident that this season is ripe with surprises. This past Saturday was no exception. With a commanding 2-0 win against G2 Esports, NRG not only progressed to the Quarterfinals but also etched their name in the annals of eSports history.
WELCOME TO THE QUARTERFINALS:@NRGLeague dominate @G2League and advance to the #Worlds2023 Knockout Stage! pic.twitter.com/i2iFVPSzQg

— LoL Esports (@lolesports) October 28, 2023
Making LCS Proud
This win solidifies NRG's position in the Quarterfinals of Worlds 2023, but it's not just any ordinary victory. This achievement signifies the end of a long dry spell for the LCS. NRG has now joined the elite group, becoming the second team from the LCS to make it this far since Cloud9, a gap spanning almost eight years. If we were to trace back to the last time a similar feat was accomplished, we'd be reminiscing about the 2014 World Championship when TSM stood tall, making it to the same stage.
NRG's Fairytale Year
2023 seems to be the year scripted for NRG. Their triumphant return to the LCS was marked by a surprise conquest over the crowd favorite, Cloud9, to claim the league title. And now, in their international debut, they aren't just participating – they're dominating. Their performance this season is unparalleled, reminiscent of the golden days of North American teams.
✅ First Split back in the #LCS
✅ LCS Champions
✅ #Worlds2023 Quarterfinalists pic.twitter.com/Bz5p3ngRhG

— LoL Esports (@lolesports) October 28, 2023
Global Implications
NRG's ascendancy is not merely a feather in the cap for the LCS, but it holds broader implications for the international League of Legends scene. Amidst a sea of Asian titans, NRG stands tall as the sole non-Asian contender to have made it this far into the most prestigious tournament in LoL. Surrounded by Chinese and Korean powerhouses, the U.S. champions are on a quest. And given their track record, they're here not just to partake but to conquer.
Open History
NRG's achievements in Worlds 2023 are not just monumental for the team but also signify the potential resurgence of non-Asian teams in the global League of Legends arena. As they march forward, the League of Legends esports community will undoubtedly keep a keen eye on their journey, hoping for more upsets and history-making moments.