November welcomes a bounty of free games for PC and Xbox enthusiasts, with Steam and Epic Games leading the charge in giveaways. This weekend, from November 10th to 13th, dive into diverse worlds ranging from ninja battles to survival horror.
Xbox Game Pass Delivers Action and Adventure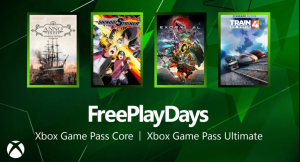 Xbox Game Pass Selections
Xbox Game Pass Core and Ultimate subscribers are in for a treat with four standout titles ready for download. Here's what's on offer:
Anno 1800: Craft your own industrial empire.
Naruto to Boruto: Shinobi Striker: Engage in acrobatic ninja combat.
Train Sim World: Experience the thrill of high-speed trains.
Exoprimal: Dive into a prehistoric exo-suit adventure.
Which will you choose to play this weekend?
Epic Games Store's Weekly Freebie
Golden Light: A Haunting FPS
The Epic Games Store continues its tradition of weekly gifts, offering Golden Light for free. This first-person shooter blends survival elements with a horror twist, set within ever-changing dungeon environments. Secure your copy of Golden Light before the promotion ends on Thursday, September 16, 2023.
Steam's Weekend Trials
Three Must-Try Games on Steam
Don't miss out on Steam's trio of free trials available until Monday, November 13:
Trepang2: Engage in intense firefights with bullet-time action.
Isonzo: Relive World War I's alpine warfare.
Europa Universalis IV: Rewrite history in this grand strategy game.
Enjoy the Weekend
Whether you're a fan of strategic empire-building or fast-paced ninja fights, this weekend's lineup of free games promises something for everyone. Remember, these offers are time-limited, so jump in quickly to enjoy a thrilling gaming experience without spending a dime.