In the ever-evolving landscape of mobile gaming, Mortal Kombat continues to reign supreme with its latest addition: Mortal Kombat: Onslaught. Brought to you by Warner Bros. Games, this real-time collector's RPG promises not only the signature bone-crushing action but also a deeper dive into the lore of the Mortal Kombat universe. Here's everything you need to know about this spectacular mobile RPG.
From Console to Mobile: A Seamless Transition
NetherRealm Studios, renowned for their prowess in game development, are the brains behind this project. This is not just another port; it's the first mobile-exclusive storyline for the franchise. The narrative zooms in on Shinnok's diabolical plans and the heroes who stand against this impending doom.
A Battle of Realms and Relics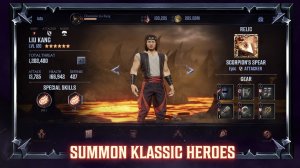 As Shinnok, the fallen Elder God, plots to harness power from relics across realms, it's up to the players to rally behind Raiden. Forming a squad of legendary fighters, you'll embark on real-time group battles, striving to avert the looming catastrophe.
Roster of Legends
Mortal Kombat: Onslaught boasts a diverse array of iconic characters. From stalwarts like Sub-Zero and Liu Kang to fan-favorite combatants such as Cyrax and Smoke, there's no shortage of fighters to choose from. The key to victory lies in strategizing with a combination of assassins, warriors, snipers, and defenders – each bringing a unique set of moves, affinities, and passive abilities to the table.
Evolution and Progression
To keep up with the escalating challenges, players need to constantly up their game. This involves refining combat skills, leveling up equipment, and harnessing the power of Relics – potent artifacts from Mortal Kombat's rich history. These relics don't just offer stat boosts; they unlock the potential for the much-loved Fatalities.
Special Modes and PvP Action
For those seeking an additional layer of challenge, the Boss Tower and Chasm modes are worth exploring. These modes allow players to enhance their fighters' capabilities even further. On the competitive front, the Arena beckons, offering real-time battles against fellow Earthrealm warriors. Claim victories, earn rewards, and ascend the PvP seasonal leaderboards.
A New Experience in the Classic Battle!
Mortal Kombat: Onslaught is not just a game; it's an experience. Whether you're a veteran of the series or new to the franchise, this game promises hours of engaging gameplay, rich graphics, and a storyline that will keep you on the edge of your seat. Don't miss out on this epic battle for Earthrealm's survival.