Mortal Kombat, a series celebrated for its intricate fighting mechanics and iconic characters, continues to evolve with its updates. In the latest patch for Mortal Kombat 1, NetherRealm Studios introduces a series of character modifications and gameplay improvements. Let's dive deep into these updates to understand their impact on the game.
Key Highlights of the October 24 Update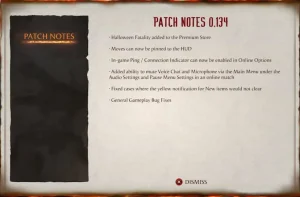 Practice Mode Enhancements: Recognizing the concerns raised by the MK1 community, NetherRealm Studios has revamped the practice mode to offer a more enriched training experience.
Character Adjustments: Some noticeable adjustments were made to characters. Players have noted the Cyrax Kameo's new cost, Baraka's reduced walk speed, and Kung Lao's altered Kameo attacks as examples.
Quality of Life Updates: A series of tweaks, such as the addition of a Halloween Fatality to the Premium Store, the ability to pin moves in the HUD, and the inclusion of an in-game ping/connection indicator, has enhanced the user experience.
Big patch for today is now live, and move tagging is officially back. As always, make sure your game is updated and kombat ready before jumping in. Full patch notes coming soon. #MK1 pic.twitter.com/Mio38SKMVd

— Mortal Kombat 1 (@MortalKombat) October 23, 2023
Notable Character Changes
Cyrax Kameo: A significant change is the modified cost of Cyrax's horizontal helicopter spin move, now requiring a full Kameo bar. This could be a potential reaction to the meta observed during the East Coast Throwdown 2023.
Baraka: Baraka now exhibits a slower walk pace, and a prominent gap has been identified in his 2,1 string, which may alter players' combat strategies.
Raiden: A damage reduction for Raiden may shift his position in tier lists and influence player choices.
Kung Lao: The cooldown period on Kung Lao's Kameo low hat move has increased, and his Kameo spin will not launch the opponent anymore. This might significantly alter how players employ Kung Lao's moves in their fight sequences.
Twitter user Mitsuownes provides a detailed breakdown of character changes here:
#MK1 Patch Changes Thread:

1/? Mileena's 12 doesn't whiff anymore. pic.twitter.com/myJCdpo9Fb

— Mitsuownes (@Mitsuownes) October 23, 2023
General Gameplay Improvements
Enhanced User Experience: Players can now mute voice chat and microphone, and the persistent issue of the yellow notification for new items not clearing has been fixed.
Gameplay Fixes: A series of general gameplay bug fixes enhances the overall play experience. Fixes for Sindel's infinite glitch and General Shao's axe glitch against Shujinko are especially notable.
Recomendaciones Finales
NetherRealm Studios continues to demonstrate its commitment to refining the Mortal Kombat experience for its dedicated fanbase. With these changes, the game will likely see shifts in meta, tier rankings, and player strategies. As we anticipate more detailed patch notes from the studio, players are encouraged to explore these updates firsthand, adapt their playstyles, and discover fresh strategies to dominate their opponents.