Moist Moguls is the most popular team in NA VALORANT Challengers. However, a very narrow margin separates Moist Moguls from Disguised VALORANT, another of the most popular teams in the tournament.
The most popular teams in NA VALORANT Challengers
Both Moist Moguls and Disguised VALORANT are North American VALORANT teams that major content creators support; the two teams could not face each other in the 2023 Challengers season. However, a rivalry was established thanks to friendly teasing from team owners Ludwig and Disguised Toast.
By the end of the 2023 season, the two teams had achieved virtually opposite results. However, the ratings competition was much more evenly matched. According to statistics published by Esports Charts, regarding average viewership Moist Moguls narrowly edged out Disguised for the top spot among the NA VALORANT Challengers teams.
Moist Moguls was the NA team with the most viewers during their Challengers participation. This team averaged 68,952 viewers during their Challengers run. While Disguised came in second with 68,293 spectators on average.
It can be said that the two teams had completely different years, which resulted in a very varied viewership at different times of the season.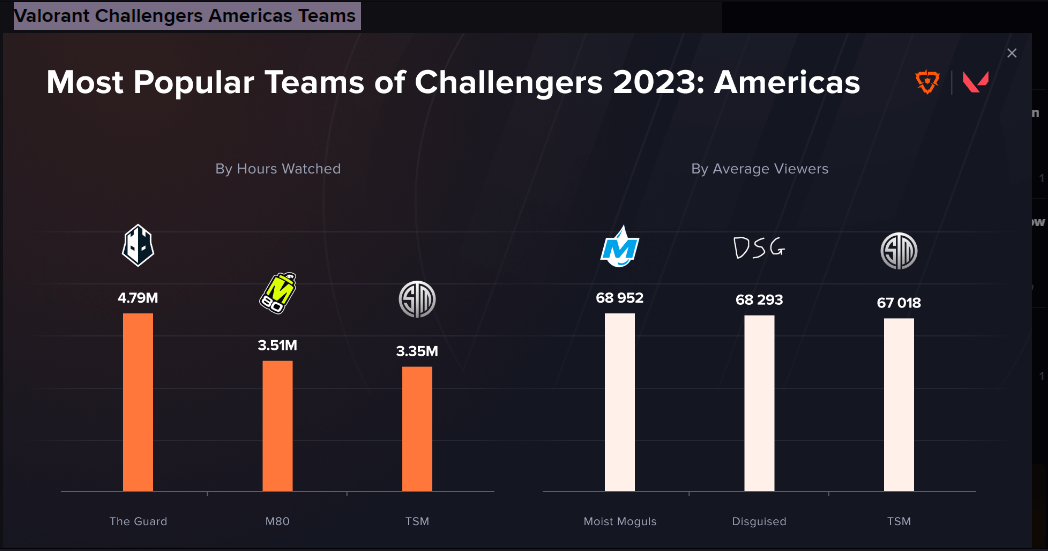 Moist Moguls, the most popular team in NA VALORANT Challengers
Moist was the team that achieved the highest average viewership throughout the season. The team averaged 96,400 viewers in the first half, more than 15,000 ahead of the second-place team. Disguised also took second place in the first part of the season. Viewing parties hosted by Ludwig and Critical undoubtedly helped Moist Moguls to the top spot.
However, things got a little tighter for the second half of the season between the two teams. Disguised was in first place for the first five games, with an average of 75,000 viewers. VALORANT fans were eager to see how "yay" one of the former OpTic/Cloud9 stars played on the Disguised squad.
However, as many know, yay did not bring the results Disguised sought for the team. The team lost the first five games and was forced to relegate. While Moist Moguls got first place in the standings, making it to the playoffs.
However, in Disguised's relegation matches, the average number of spectators was only 48,700, which is also a drop in the position among the most popular teams. On the other hand, Moist Moguls kept on winning throughout the season, and the average number of spectators increased to 69,500.
Although the two teams could never meet, Ludwig and Moist Moguls had a more fruitful season. After the abrupt end of the season, Disguised Toast cut ties with his team.