Embark on the adrenaline-fueled journey with Call of Duty: Modern Warfare 3 before the masses. Here's how.
The Countdown Begins
With the global launch of Call of Duty: Modern Warfare 3 just around the corner, set for November 10, 2023, anticipation is reaching fever pitch. But, what if we told you there's a way to dive into the campaign even before this date? Here's the inside scoop.
Early Access: A Trend Continues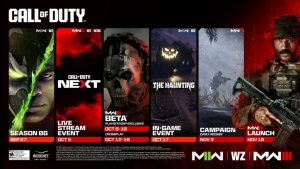 Cast your minds back to the release of Call of Duty: Modern Warfare 2. Remember the envy of watching select players revel in the campaign a whole week ahead of the official launch? Modern Warfare 3 promises to keep that tradition alive, offering the same tantalizing opportunity.
However, it's crucial to note: this early bird offer applies only to the campaign mode. If you're all about the multiplayer mayhem, you might choose to patiently await the official release.
Unlocking Early Access: How-To
Gaining this privileged peek into Modern Warfare 3's campaign is contingent upon one critical decision – your choice of purchase. Here's the rundown:
This early access is exclusive to digital versions of the game.
If you've opted for a physical copy, unfortunately, you're out of this race.
To avail it, head over to your console's store (PlayStation Store for the PlayStation enthusiasts, and Microsoft Store for the Xbox brigade). PC warriors can march straight to Steam or Battle.net.
Select and purchase any digital version.
Presto! Early access to the campaign is now yours.
Mark Your Calendars
Activision has set the stage, announcing that early access commences on November 2. While the exact hour remains under wraps, stay tuned, and we'll update you with the specifics as they roll in.
What Awaits on November 10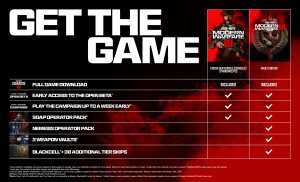 When the floodgates open globally for Modern Warfare 3 on November 10, brace yourselves. Along with the electrifying multiplayer mode, players can traverse through 16 remastered maps, including crowd-favorites like Terminal, Rust, and Highrise. To top it off, the much-loved Zombies mode makes its grand comeback, setting the stage for epic showdowns amongst friends.
Enjoy the Early Access!
While the lure of early access is compelling, the full might of Modern Warfare 3 is worth the wait. Whether you jump the gun or bide your time, one thing's for certain: an unparalleled gaming experience awaits.