Madrid, the Spanish capital, is gearing up to be the center of attention for all of Europe in the Pokémon realm. The renowned Madrid In Game Video Game Campus is set to host one of the most awaited events for Pokémon enthusiasts: the Midseason Showdown.
---
Madrid In Game's Midseason Showdown Debut
This weekend, Madrid will be recognized not just for its historic landmarks and vibrant nightlife, but as the residence for Europe's most prominent Pokémon trainers. This tournament isn't just any event; it's the first-ever Midseason Showdown of Pokémon at the Madrid In Game Video Game Campus. This showdown acts as a qualifier for the Scarlet and Purple Pokémon world championship, promising to be a monumental occasion in Hawaii in 2024.
---
Tournament Details: Beyond the Game
The tournament is a collaboration between two significant entities: Madrid In Game and Victory Road Spain. Both organizations have teamed up to abide by the official VGC ruleset (Regulation E). Originally, 180 spots were provided for the event, but due to overwhelming demand, this was increased to 225, showcasing the magnitude and buzz it has generated.
On Saturday, October 7th (today), the capital will be brimming with strategies, battles, and of course, Pokémon. Over 200 trainers will clash from 9:30 in the morning till 9:00 in the evening. But if you can't be there in person, fret not. The entire event will be live-streamed on Victory Road Spain's Twitch channel.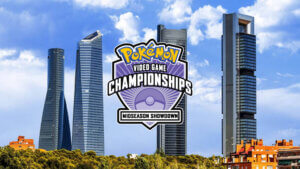 ---
Elite Narrators for Elite Battles
But a tournament of this caliber would be incomplete without expert narrations and commentaries. Hence, the battles will be casted by renowned figures in the Pokémon competitive scene like Sekiam, Repr4y, Pokealex, and Dondegentes. With their profound knowledge and experience, they promise to deliver enriching and thrilling analysis for all viewers.
---
Don´t Miss Out!
The Madrid In Game's Midseason Showdown is a unique chance to witness some of the best Pokémon trainers in action. It's not just a showcase of talent and strategy but also a celebration of the Pokémon community. So, whether you're a seasoned trainer or just a fan of the game, don't miss out!