Prepare for an electrifying spectacle as the M5 World Championship beckons, setting the stage for the most elite Mobile Legends: Bang Bang teams to clash. With the kick-off on December 2nd, 2023, this tournament is more than just a game; it's where legacies are crafted and champions are crowned.
The M5 World Championship Group Stage: An Overview
Embark on a journey from December 2nd to 7th as the Group Stage unfolds. Here, 17 teams, including the formidable victors from the M5 Wild Card stage, convene to vie for honor and a hefty slice of the $900,000 USD prize pool. The absence of the reigning champions, ECHO, guarantees the rise of a new champion among the gladiators of the virtual arena.
Group Stage Mechanics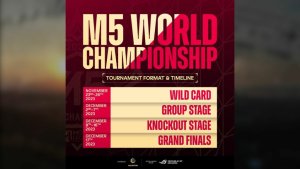 Dates: 2nd – 7th December 2023
Structure: Four groups, Single Round Robin format
Match Format: Best of 3 (Bo3)
Progression: Top 2 from each group proceed to the Knockout Stage
Elimination: Bottom 2 from each group face elimination
Knockout Stage Details
Dates: 9th – 17th December 2023
Competition: 8 Teams from the Group Stage
Format: Double-elimination bracket
Match Format: Best of 5 (Bo5), except for the Grand Final
Grand Final: A riveting Best of 7 (Bo7) showdown
Contenders for the Crown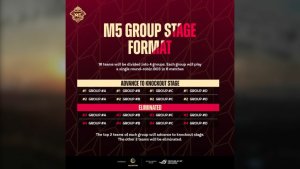 From the strategic prowess of AP.Bren to the relentless force of Blacklist International, each team brings a unique fervor to the battlefield. Notable participants include:
ONIC Esports: A name synonymous with consistency
Geek Fam ID: Innovators of team play
RRQ Akira: The dark horses with nothing to lose
Bigetron Sons (BTR): Famed for their tactical genius
And many more, each with their eyes set on glory
Catching the Action Live: Where to Watch
Fans globally can immerse themselves in the action-packed battles by tuning in to the official Mobile Legends: Bang Bang YouTube channel or the MLBB Twitch stream. Be part of the live experience and witness history as it unfolds in real-time.
The Battle for Supremacy!
As the M5 World Championship hurtles towards us, the anticipation is palpable. This is not just another tournament; it's a battle for supremacy. Every team, every player, and every fan knows that what transpires here will echo in eternity. Be ready, for the legends are about to rise!