G2 Esports, one of the most prominent teams in the League of Legends esports scene, recently had an excellent draw in the Worlds 2023. Amidst the intense battles and nail-biting moments in the Rift, the drawing sessions, significantly determining the fate of the teams, have been generating an immense buzz.
Swiss Draw Drama
As the dust settled and Team BDS was eliminated, the next round's drawing began to determine the three teams advancing to the quarter-finals and those facing elimination. Amid the tension and high stakes, G2 Esports emerged as the most favored team by drawing NRG for the Bo5 stage.
Apart from the intense matches on the Summoner's Rift, the draw sessions have equally been a center of attention. The referee, now famously known for his stoic and emotionless demeanor, played his part once again. Some light-hearted comments have emerged, suggesting he might have spent his summers in Matalascañas, seemingly favoring the European region in several draws.
For those who might have missed recent developments at Worlds, JDG and Gen.G have successfully advanced to the quarter-finals. In contrast, Team Liquid and Team BDS have packed their bags after their journey in the Swiss format, marking three defeats in their ledger.
Draw Outcomes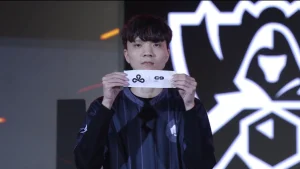 Teams with a 2-1 record face off in intense matches, whereas those with a 1-2 record also clash in decisive games determining their future in the tournament.
If you've been out of the loop, here's a brief on the draw results:
Teams with 1-2 Record (scheduled for 26/27 October):
Cloud9 vs. Fnatic
Dplus Kia vs. GAM Esports
Weibo vs. MAD Lions
Teams with 2-1 Record (scheduled for 27/28 October):
KT Rolster vs. LNG
T1 vs. Bilibili
G2 Esports vs. NRG
#Worlds2023 returns on October 26 with these matches! 👇 pic.twitter.com/OWOeBjKvRi

— LoL Esports (@lolesports) October 23, 2023
It's worth noting that the draw has been incredibly kind to the Europeans, especially G2 Esports, getting the most favorable matchup for advancing to the Best of Five.
Upon determining the results from the Best of Three matches for teams with a 2-1 record, another draw will be conducted to finalize the three remaining teams that will join the Worlds' quarter-finals.
Stay Updated with All our Information!
The League of Legends Worlds 2023 is proving to be an exciting event with its mix of unexpected outcomes and fan-favorite moments. While the draw results have provided some teams with a favorable path, the nature of the game means that anything can happen. Fans are eagerly waiting for the next set of matches, especially with G2 Esports positioned favorably. Regardless of the draw results, the upcoming matches promise great gameplay and unforgettable moments.