In the ever-evolving world of League of Legends, every patch tends to shuffle the power dynamics among champions. Patch 13.21 was no exception, bringing forth a series of changes that reshaped the competitive landscape. The patch particularly shines a spotlight on K'Sante, who has experienced a dramatic surge in his win rate in the top lane.
K'Sante's Resurgence
K'Sante, once a pain point in terms of balance for the developers, found himself at the bottom of the tier lists after tweaks in patch 13.20. Yet, the changes brought in by patch 13.21 have elevated this Pride of Nazumah to newfound prominence.
Upon the patch's deployment to the main server, K'Sante's win rate skyrocketed, earning him an esteemed S+ rank for the top lane tierlist. A notable shift from a 45.58% to a commanding 51.65% win rate was observed among players ranked above Emerald.
Riot's intentions were clear: "The main aim with the buffs in this patch was to substantially raise his power in all-out battles, ensuring that shedding his resistances pays off," the patch notes elucidated. The data speaks volumes – Riot's adjustments have undoubtedly achieved their intended outcome.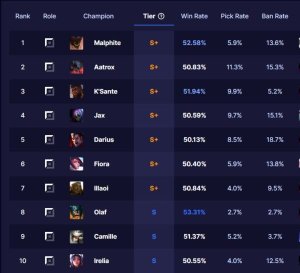 Strategies Behind the Buffs
The changes to K'Sante were crafted with the intent of enhancing his influence in standard games, mirroring the success he's demonstrated in professional play. Despite numerous nerfs, K'Sante, the Pride of Nazumah, remains a favored pick among top lane professionals, showcasing his lasting impact on the competitive scene.
Beyond K'Sante: Patch 13.21 Highlights
Patch 13.21 wasn't solely about K'Sante. Champions like Zyra, Morgana, and Brand underwent modifications, potentially opening paths for them in the jungle role.
Furthermore, fans of the Pride of Nazumah have another treat in store. K'Sante will also join the ranks of the new musical group, HeartSteel, and is set to receive a captivating skin in the imminent update.
Bet on K´Sante!
While Patch 13.21 has shaken up the meta significantly, it's imperative for players to adapt and refine their strategies. K'Sante's ascendancy serves as a reminder of the game's dynamic nature, where champions can rise or fall based on timely adjustments. Players should stay updated with patches, master their favorite champions, and always be prepared for the next game-changer in League of Legends esports.