Riot Games and team owners are reportedly in discussions to decrease the number of participating teams in the League Championship Series (LCS) for the upcoming season.
Amidst ongoing challenges in North America's professional League of Legends scene, a significant shift is on the horizon. Rumors suggest that Riot aims to reduce the LCS to eight teams for the next season.
Challenges Prompting the Change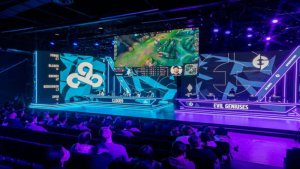 Recent LCS seasons have been marred by struggles, not just with declining viewership but also due to the region's underwhelming international performance. As these issues intensify, Riot and team owners are considering tough decisions to rejuvenate the league.
The Reduction Proposal
Current State: LCS currently features ten teams.
Proposed Change: Reduction to eight teams, as revealed by Michael "Veteran" Archer, a former coach and content creator.
Meeting Details: Riot reportedly held a meeting with team owners, though the exact date remains unclear.
Decision Timeline: A formal decision is expected to be made by next Monday, potentially impacting the 2024 season.
I now have enough confirmation from multiple sources that I'm confident the following is real, and I have come to the conclusion that every day extra counts, so it is worth tweeting.

Riot held an owners meeting where they floated the idea of reducing LCS from 10 teams to 8…

— Veteran (@VeteranEU) November 18, 2023
Veteran's release of this information aims to alert players and coaches of the possible changes for the upcoming season. His concern is to prevent hasty and ill-informed decisions regarding careers and job security in the face of these potential changes.
Implications for the LCS and Esports
This proposal marks a pivotal moment for the LCS and North American League of Legends esports. The reduction in teams could lead to a more competitive environment, possibly increasing the quality of play and viewership engagement. However, it also raises concerns about job security for players and staff of the potentially exiting teams.